They outran an avalanche.
They held canoe races on a frozen river.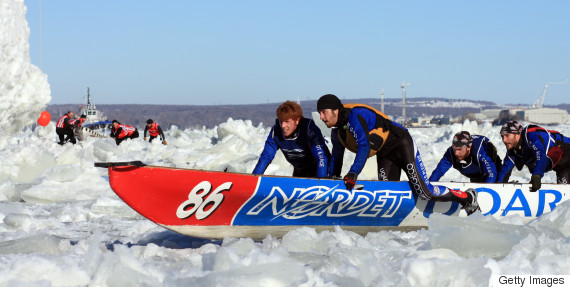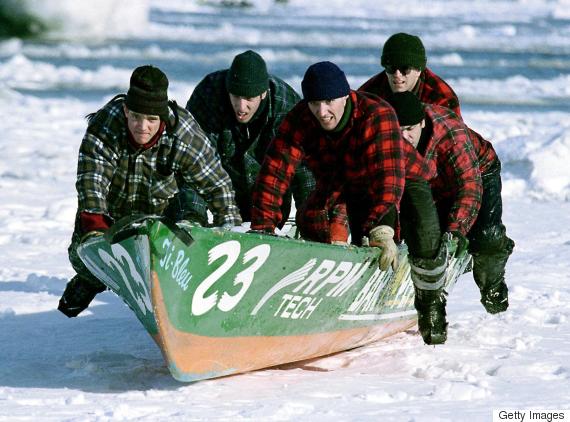 They went for a (mighty brief) swim beneath the ice ...
And did gymnastics in the snow.
They built an amazing cave ...
Jackie LeBlanc shared this image of a snow cave built by her friends, Trudy and Reggie Hebert, in French Village. #nb pic.twitter.com/k634RfY3Nq

— CBC New Brunswick (@CBCNB) February 17, 2015
And the biggest snow maze anyone has ever seen.
Thunder Bay now holds title to the world's biggest snow maze.

Full story here: http://t.co/iwB7sEMFty pic.twitter.com/TGZEZcJiNn

— CBC Thunder Bay (@CBCTBay) February 16, 2015
They climbed (CLIMBED) Niagara Falls ...
Dodged falling icicles to reach new heights ...
And braved sub-zero temperatures to ride bikes.
Des centaines de cyclistes participent au défi « Vélo sous zéro ». vi@iciradiocanada http://t.co/MwEVf0Igwu pic.twitter.com/r0rTuMx6tE

— MEC, la coopérative (@mec_pleinair) February 16, 2015
Check out photos from yesterday's #velosouszero up at @CultMTL: http://t.co/ukerKoFdyL @VeloQuebec #montrealcycling pic.twitter.com/hbs8jfWUfI

— Cindy Lopez (@CL_opez) February 16, 2015
They strapped on skates and took on frozen streets ...
And slept in ice hotels fit for Queen Elsa.
They turned hot water into a cloud ...
And made the most Canadian "Star Wars" spoof we've seen yet.
When winter gave them a storm ...
They ate #Stormchips, dammit!
Old Dutch providing #stormchips - stay warm Maritimers! Thanks for the images @cfcy @MyNamelsSarahY pic.twitter.com/0b6Vb2V1BF

— Old Dutch Foods (@olddutch) February 17, 2015
@MarciIen @CTVCanadaAM @jeffhutcheson See they are even marketed that way on #PEI #StormChips pic.twitter.com/FVIQ4jsCOE

— Paul Alan (@PEIPaulAlan) February 16, 2015
Please check the road conditions before heading out! http://t.co/KRdM7BuLBo #stormchips #Sam @NS_TIR pic.twitter.com/fbtMsSW1rb

— Shubenacadie Sam (@ShubenacadieSam) February 15, 2015
They endure an ugly season like champions, as only Canadians can.
So hang in there, Canada! And just remember that the snow will melt away eventually.
Brave Canadians, we salute you.
Like Us On Facebook

Follow Us On Twitter

ALSO ON HUFFPOST: