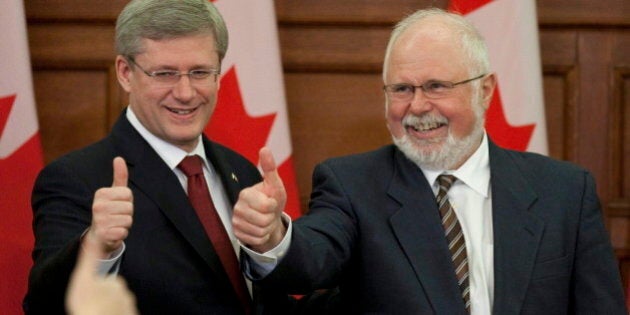 A Conservative MP has accused New Democrats of harbouring a "radical animal rights agenda" that seeks to outlaw the livelihoods of millions of Canadians.
Manitoba Tory Robert Sopuck made the charge in a media release Wednesday that focused on remarks NDP MPs Jean Crowder and Francoise Boivin have made about "Quanto's Law," a piece of legislation introduced by Conservatives.
Bill C-35, the Justice for Animals in Service Act, would amend the Criminal Code to provide tougher penalties for anyone who harms service animals, including those in the police and military. It is named in honour of Quanto, an Edmonton police dog stabbed to death in 2013.
Sopuck, who chairs the Conservative Hunting and Angling Caucus, said Crowder and Boivin aim to give animals the same rights as humans, to the detriment of hunters, sealers, anglers, farmers, and medical researchers.
"That would take billions of dollars out of Canada's economy and irreparably harm the millions of Canadians who hunt, farm, and rely on medical research," he said in the release.
Sopuck singled out Crowder and Boivin because of comments each made in the House of Commons while debating Quanto's Law in the fall. New Democrats support the legislation but have expressed reservations about the mandatory minimum sentences attached to the bill.
On Oct. 27, Crowder referenced an earlier private member's bill from NDP MP Peggy Nash that sought to remove animals from the Criminal Code section on "property," and create a new section specifically for animal cruelty offences recognizing them as "sentient beings."
"In short, animals would be considered people and not just property," Crowder said at the time.
"These harmless, defenceless creatures deserve the same protection that we afford to children and people with mental or physical disabilities," she said.
It appears those quotes form the basis of Sopuck's claim of a sweeping animal rights agenda in the NDP.
"The New Democrats' policy proposals would end most animal use and seriously damage our agricultural, hunting, trapping, fishing, and sealing communities," Sopuck said in the release. "Previous animal rights campaigns have devastated many poor rural communities by taking away their way of life, and this would do exactly that."
Sopuck also took a swipe at federal Liberals for attempting to pass a bill in 2001 that would provide more robust sentencing options for animal cruelty.
"How would the New Democrats compensate farmers and livestock producers for their losses?" Sopuck said in the release. "How would they make up for setting medical research years behind and jeopardizing the health of Canadians?
"These are questions the New Democrats must be asked and held accountable for answering."
Sopuck has also taken to Twitter to criticize the NDP.
And he was evidently unhappy reporters did not ask Thomas Mulcair about the matter on Wednesday at a press conference in which the NDP leader announced his party won't support the government's new anti-terror bill.
But this is not the first time Sopuck has been critical of Crowder and Boivin. The Tory MP also read the NDP MPs' comments into the official record during a fisheries committee meeting in November, calling their words "appalling."
"As someone who's fought the animal rights wars… the implications of these statements would be staggering if ever implemented," he said. "They would end all hunting, trapping, sealing, and most importantly, medical research, plus the raising of livestock."
A former biologist and outdoors columnist for the Winnipeg Free Press, Sopuck was rumoured to have been considered for the post of environment minister in 2010.
In a profile in The Toronto Star more than four years ago, Sopuck dished on the various animals he has killed and eaten, including moose, elk, beaver, muskrat and raccoon.
"The young ones taste the best," Sopuck reportedly said of raccoons during a radio interview in 2008. "You roast the hind legs and they're mild and nice and fatty."
Sopuck has also published a book of essays on hunting and gathering, titled "A Life Outdoors."
With a file from The Canadian Press