AMilkin via Getty Images
A Vancouver writer has gone public about the sexual relationship she had with her father, describing the experience as "like a dark spell."
Natasha Rose Chenier met her biological dad for the first time when she was 19. In the years that followed, the two of them became sexually involved.
"I imagine that, unless you have experienced genetic sexual attraction [GSA] yourself, this is going to sound entirely unbelievable," Chenier wrote in a Jezebel.com story, "On Falling In and Out of Love With My Dad," published Tuesday.
"But trust me: it is as real and intense as anything. The sexual feelings I had for my father felt like a dark spell that had been cast over me — a description that a therapist told me had been used almost verbatim by another client who had experienced father-daughter GSA."
In the harrowing and honest piece, Chenier describes longing for a parental figure who made her feel safe, and finally finding that when she met her dad. Soon, though, she began feeling sexually attracted to him, and found that the feelings were mutual.
When they started to act on their feelings, she became "filled with an unmatched horror" and afterwards would run to the bathroom to dry-heave over the toilet.
Chenier was inspired to share her story after hearing the experiences of Dylan Farrow, actress Lena Dunham, and the women who came forward to accuse Jian Ghomeshi, she told The Huffington Post B.C. in an email.
"I think it's such a taboo topic that it piques people's interest, bringing out the worst in some, and the best in most, from what I can tell," she said. "The public seems interested, horrified, and empathetic, which is exactly what I was hoping for."
GSA is the sexual desire that can occur between two estranged relatives who are reunited as adults. The term was coined in the '80s by Barbara Gonyo, the founder of Truth Seekers In Adoption, a Chicago-based support group for adoptees and their new-found biological family, according to the Genetic Sexual Attraction Forum. Because of the taboo nature surrounding GSA, there are no solid statistics on how many of these reunions result in sexual relationships.
Chenier's story comes one month after New York Magazine published an interview with an 18-year-old woman who has been in a romantic relationship with her biological father for almost two years.
"I just don't understand why I'm judged for being happy," she told the magazine.
"We are two adults who brought each other out of dark places. People need to research incest and GSA because they don't get it and I don't think they understand how often it happens."
Chenier has not been in contact with her father since 2009, so she has no idea if he has read her post or not. She wrote it, she said, to spark change.
A drawing depicting Natasha Rose Chenier.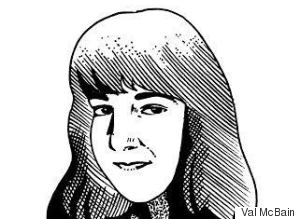 "I want people to stop shaming victims of sex abuse and incest," she told HuffPost.
"I want men to stop strong-arming women into these situations. I want to break the silence that protects abusers everywhere, and hope that some of my readers will gain the courage they need to join the movement."
She wants others in similar situations to know that they are not alone, and that what happened was not their doing.
"If it is a parent-child relationship, the parent, whether male or female, is always responsible for establishing and maintaining boundaries," she wrote on Jezebel.
"Failing that, they are sexual abusers. And to the victims of their abuse, I want to say what I have finally been able to understand myself: that my attraction, and what it led to, was not my fault."
Read the entire Jezebel story here.
Like Us On Facebook

Follow Us On Twitter
ALSO ON HUFFPOST: