Caroline Spencer
When Caroline Spencer was first offered the opportunity to take a leave of absence from work to become a part-time student, she was terrified.
"My first thought was, 'I've worked for at least 25 years of my adult life, and I'm not going to have a job," she says. But it turns out her job may have been holding her back from getting what she really wanted in life.
Spencer, who works with Air Canada Jazz as a customer service agent, is one of the many people whose careers have been affected by the airline's tumultuous past few years. In 2003, she was laid off from her role in Windsor, Ont., and moved to Regina for a different full-time role with the company. But this didn't even compare to the leap she took in 2011, when she threw caution to the wind, accepted a three-year leave of absence and signed up to be a part-time student at the age of 47.
Enrolling at the University of Windsor in the department of psychology, Spencer was able to study in a field that had interested her for years, exploring how people interact with others and why society treats certain people in certain ways.
Even with the help of OSAP (Ontario Student Assistance Program), Spencer had plenty of debt thanks to her mortgage, car payments and insurance. So when she received an email about study abroad programs, she almost ignored it.
"I'd always wanted to live in England," she says. "I looked into it, and they said I'd have to live in a dorm, with a bunch of kids, and it was supposed to cost this amount of money, so I was pretty much about to say no when a friend of mine said, 'This is what you're doing. This is why you went back to school, for new experiences,' and I thought, 'you know, you're right.' And that's what I did."
Spencer, who is turning 50 in March, gave away or sold most of her furniture, sold her car, found a tenant for her home in Windsor (where she was living once again), got a property manager for the house and moved to England.
It was a somewhat bittersweet moment, as it came at a time when her cat, Oscar, had just passed away. Though Spencer had worked for an airline for decades, she hadn't done as much travelling as she would have liked in order to care for Oscar, so when he passed away at the age of 20, "that opened me up," she says. "I said, 'I can do what I want to do now."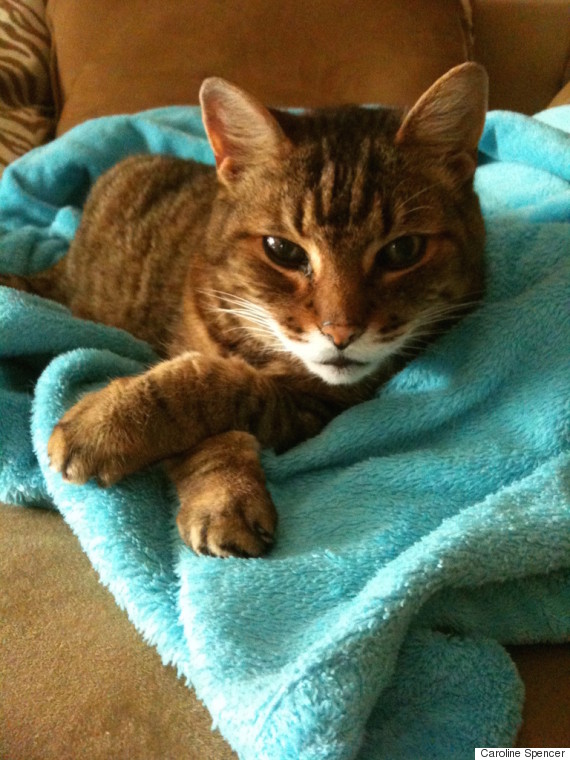 Like so many adventures, England had its ups and downs. Spencer battled health issues, difficult landlords and money troubles, but she also discovered courses she adored, as well as kindnesses she never anticipated.
"There was a time when OSAP cut me off because there was a discrepancy with my 2012 income tax return and they said I couldn't apply for five years. This was November, and I thought 'I'm going to have to leave in January.' There were courses happening in second term that were what I'd moved to Leicester for. And I put it up on Facebook and said, 'This is it, I've had to drop out, I've talked to my coordinator here and she's pulled me out of the program.' And I had two friends from home send me an email saying, 'How much do you need?' Two friends. I never expected that."
Similar instances have pervaded her life since her return to Canada in March 2014. Though she no longer has a car, her neighbour told her she can borrow hers whenever she needs to, for example. And Spencer, who says she's more satisfied with her life than she's ever been, has found herself going out of her way to help her neighbours.
"I am optimistic. I am nicer. I am more generous," she says. "I don't expect things to be given to me. If nice things happen, that's great, or I'll do nice things, but there's no expectation placed on anyone."
Now, she's finishing up her psychology degree at the University of Windsor and hoping to pursue a Masters Degree in sexuality and human rights. Her leave of absence from Air Canada Jazz comes to an end in November, and she's hoping to take advantage of her flying privileges once she's paid off her loans.
"There are still quite a few places on my list that I need to get to before time's up," she says.
So does it worry her that things are still up in the air (so to speak) and she still has $26,000 to pay back? Not for a second.
"I've been afraid of money issues my whole life, and nothing's really changed," she says. "Whether you have a job or not, you could still lose that job.
"People say, 'Do what you love,' and honestly, I wouldn't have believed it, but it works. I'm going to be 50. If I have conservatively 20 years, do I want to spend it doing something I'm not loving? Or not even not loving – not liking. If you don't like it, change what you're doing, change your concept of what you like, but just do it."