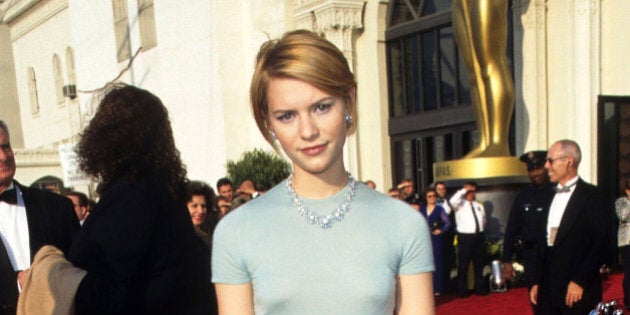 We are hours away from the 2015 Oscars, which means one very important thing: it's time to bring it back to the '90s.
And can you blame us? Aesthetically, it's the decade that just keeps on giving. Crop tops, bubblegum pink, and daisy hairpieces are just a few of the Oscars fashions we saw between 1996-1999 (that's the thing: the years are so rich, to include all of them would take a gallery of thousands), with A-listers inspiring proms, formals, and day-to-day lives the world over.
So consider this the real Oscar prize. Consider our retrospective as a celebration of where we've been, where we are, and where we'll go again. Happy Oscars, everybody.
Story continues below slideshow: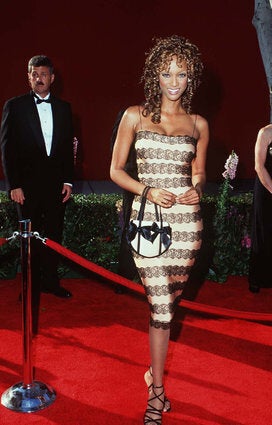 What's most unfair about Tyra Banks' 1996 look is that she could still pull it off now and look better than all of us while doing so. Pairing strappy dress sandals with a below-the-knee skirt and strapless top, America's original Next Top Model set a precedent for formal events the world over, proving you don't need to go floor-length to look red carpet appropriate. Also: top marks for her handbag, and its not one, but two satin bows.
It begins with the hair (see: the nineties flair for vintage style -- these '20s-inspired pin curls were perfect for Ryder's trademark pixie), continues with the shimmery, ankle-length dress, and ends with the chiffon wrap -- a must for any Seventeen magazine-reading tween and/or teenager. This was the look you had in mind when going dress shopping at the mall, one month before prom. (Even though Mariposa lacked selection and you ended up with the same dress as three girls in your class.)
Claire Danes' '97 Oscar style can be summed up in just three words: how dare she. Very few actresses would walk the red carpet in what looks like a short-sleeved sweater and satin skirt. But here we are, basking in realness as the then "Romeo + Juliet" star kept her look light with a powder blue palette and light jewels. Carrie Mathison would be proud.
We can sit here and applaud the thrown-together, minimalist vibes of the early 1990s, but we can also get serious: those things also helped make the second half of the decade memorable, too. In Diaz's case, she combined a corset-looking (?) top with sheer, bell sleeves (as what we can only assume was a tribute to the 1970s), and paired it with a light blue striped skirt that still managed to work. However, the real winner? Diaz's haircut. That bob was powerful.
Drew Barrymore is the matriarch of evolution, and the sooner we begin thanking her for all of it, the better. At the 1998 Oscars, she wowed in a sparkly black dress (and matching handbag) that she topped it off with daisies to accentuate her wavy bob which was '98 hippie chic at its finest. Hers was a style you could show your mom and say, "See? That's the kind of dress I want." And who can blame you? As part of the '90s revival, sparkle and sequins and shimmer are back, making Barrymore's style ahead of the curve.
What's inherently '90s about Jennifer Lopez? See: her flat-ironed hair extensions. Then, after staring at them in awe, note her bright pink hair ties, in-step with the childlike accessories that began popping up at the turn of the century. Lastly, that sheer overlay is as goth as we'll ever see J Lo -- for the next few years brought us that glorious Grammys dress (that Geri Halliwell actually wore first).
There's so much going on with Uma Thurman's '98 choice that we can't waste any time, so let's get to it. First, we've got a crop top; we've got metallic arm bands and a black pashmina that's in almost direct violation of her goddess-inspired fabric; and then there's the halter collar, which is a gift to us from anyone who ever went clubbing between 1997 and 2003. If anybody ever asks you what the nineties were like, just link to this paragraph, for it is wondrous.
And then, after linking to Uma Thurman, mention Liv: the actress whose pixie cut, corset top, and pashmina wrap also reflected the over-the-top, excessive nature of Will2K (but not "excess" in the eighties sense of the word). The nineties favoured excessive fabrics (both in terms of volume and amount of synthetics used) that eclipsed the wearer, balanced by almost a complete lack of jewelry. And also: a wrap. Because heaven forbid anybody's shoulders get cold.
Blanchett's sheer, floor-length gown may be timeless (seriously: you could've worn it anytime between then and now and you'd still look killer), but it's her layered and glittered hair that give it away: the year is 1999, and there's nothing anybody can do to change that.
10. Gwyneth Paltrow, 1999
Gwyneth Paltrow's pink Ralph Lauren dress is the stuff of Oscar fashion legend, and for good reason: it's fantastic. Playing to the late nineties' affinity for ultra-feminine dress-up (think: Bianca's prom dress from "10 Things I Hate About You"), Paltrow still looked like a grown-up thanks to her sleek hair and minimalist makeup -- even with a taffeta wrap (always with the wraps), and straps that didn't quite fit. May that dress be watching us all from wherever it is currently hung.