You may not have heard of Ella Henderson yet but the 19-year-old has already taken over the UK and has since turned her sights to this side of the pond.
The singer-songwriter got her start on "X-Factor UK," and although she may have not won the 2012 season, she made enough of an impression to entice music mogul Simon Cowell to sign her to his SyCo label. Oh, and you know who else didn't win "X-Factor UK" but got signed by Simon anyway? One Direction. Just saying.
Ella Henderson has been popping up across North America with this past week's "Tonight Show with Jimmy Fallon" appearance adding to her list of gigs on "The Today Show," "Dancing with the Stars," "The Ellen DeGeneres Show" and "The Voice."
Her debut album "Chapter One" is packed with songs about self-realization as well as giving glimpses into her past heartbreaks. The standout single, "Ghost," has already received over 30 million views on YouTube and is the first offering from the pop and R&B-influenced album.
The Huffington Post Canada sat down with Henderson to talk about the power of reality competitions, the struggles of being a female singer, and why she believes Simon Cowell is the "Rolls-Royce of the music industry."
How did you decide that doing a show like "X-Factor" was something worthwhile?
I was never someone who watched the show and thought "as soon as I'm of age I'm going to audition," it was more that I got to a point where I was at college and studying music, playing piano, and I wanted to feel like I was doing something outside of school. I wanted to throw myself in the deep end and experience the feeling of rejection, because you hear so much about it in this industry. I wanted to start experiencing this at a young age and it's crazy, it unlocked so many doors for me.
I got a lot from the experience, even though I was only on the live show for six weeks, I got exposure, the experiences. I learned how to stand in front of a camera, you know? I learned how to do live TV. It's like a boot camp for the music industry.
To some, the process of talent shows seems manufactured. Do you think these competitions ("X-Factor," "The Voice," "American Idol," etc.) get a bad rep?
I definitely think talent shows get boxed off and pushed into this category of it being about "not real talent," that it's going through a machine, popping out a little doll. But that's why I say that route was never my plan. I never thought I was the right kind of girl for it. I thought they wouldn't be interested in someone like me.
But also, you see great careers that come from it like Kelly Clarkson, Adam Lambert, One Direction -- there's crazy things that can happen. There's no blueprint to this job and everybody you speak to, artist-wise, has had it happen differently. There's no guideline.
If you want to be a doctor you've got to get certain degrees, certain grades, and get into a certain place, but this job is all about some luck, timing and being in the right place at the right time. Simply, it's about chasing opportunities constantly and it just so happened that my first chase was something that started it out enough for me.
So what was your initial plan then?
My plan was always to leave school and live in a flat with some friends, have a 9 to 5 job and try to get as many gigs as I could. I wanted to keep writing and then eventually in my twenties head to a record label and hope they'd sit down and listen to my book of songs, sign me as a songwriter and maybe an artist in development. That was my plan the whole time.
Coming from that style of performing and competing, to now being on shows like "Ellen" and "The Talk," how did you learn to transform yourself behind the camera?
If you ask my friends or family, I've never had a problem of just switching off. I'm such a daydreamer naturally so it's quite easy for me to ignore that I'm there. I can go into my own world. I guess that's what I do. I talk to myself or think about something so random like a TV show I watched the night before, it calms me down and I forget where I am. The more you get used to it the more it becomes normality.
On this album you worked with some industry heavyweights. When it comes to the producing and the co-writing experience, how important was that for you musically?
I definitely think I needed to co-write. Some tracks were purely me and then others I had to learn how to co-write. When I was in the studio with Babyface, for example, I mean he's worked with Mariah and Whitney, we all know those kind of artists so it was exciting for me to put my spin on it because I know what he's best at and it was interesting for me to bring what I do and be expressive, show my deep thoughts and emotions.
Q&A continues after slideshow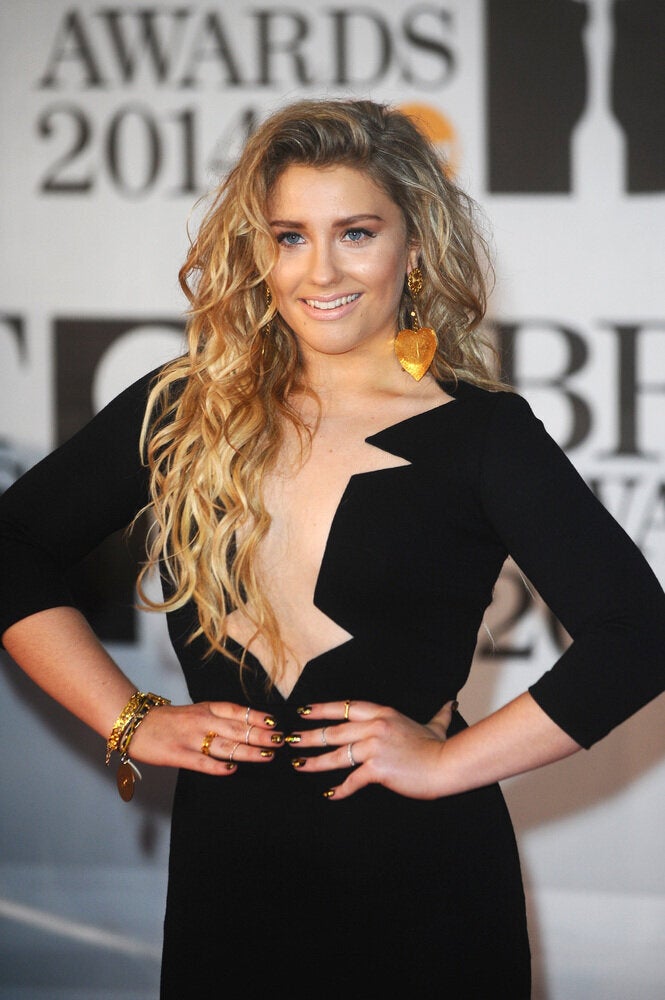 Ella Henderson: 9 Facts in 90 Seconds
Did you find the co-writing process to be fluid or more challenging than you anticipated?
It was quite fun because a lot of the people I wrote with had never written with an artist who writes most of their own material. Normally the artist would be present in the studio but would just be there to lay down the vocals. So it was a fun challenge for them as well, actually. It was really good for me to learn how to open up since I usually do my writing alone. You have to build trust and I was lucky that if I didn't want things going past those four walls it wouldn't, that's an amazing thing to have.
On the album you can hear both pop and R&B tendencies. Did that come from your own liking or was it whipped together?
Growing up I listened and was influenced by a lot of those around me. I have a big family and my dad listened to 80s music, my mom listened to Motown, my brother listened to reggae and my granddad was the one that got be into jazz and swing music. I think that along with my own love of lyrics and saying something that is just enough helped with the making of the album.
Now that you have this platform and the opportunity to be heard, do you feel the obligation to voice your opinion about issues other than music, perhaps in a political sense?
I think in my position and if my career was to grow and grow you can then think about voicing an opinion about politics, but at the same time it comes with a feeling of being a role model, and truthfully I already feel under pressure as young female in the industry.
So, you're not comfortable sharing political views?
If it's something I'm knowledgeable or felt strongly about then I would, but right now what I feel strongly about is probably within my personal life and how that falls into my music. That's not me being a coward though, that's just me wanting to use the position I have to connect with my fans about the music, I want them to relate to it and the subjects, that's what's special to me. I feel more confident on stage talking about personal things because I've got people there who are there for me.
You've received comparisons to Adele, does that excite or scare you?
It's the biggest compliment in the world. People may hear me sing an emotional song and then compare me to Adele, but if you are to listen to the whole record there's tracks on there that Adele would never sing.
I think it's an easy cop out for some people to say "you're like this" because just like life in general, if you dig a bit deeper you realize they're not actually about that. But yeah, if I had a teeny weeny bit of the same success as she has I'd be so happy.
Speaking of female artists in the industry, do you think women are pushed against one another in a rivalry sense? Do you think it's for marketing?
Yes, I do, but being in the music industry and being part of this ladder of artists, I feel like I should embrace it. I think everyone is different and the public isn't stupid they can see it. As long as you are not there to copy someone else or doing it for fame and celebrity reasons then you are heading the right way. People like Beyonce are just flawless in every way possible. Then you have Katy Perry who is like the Queen of Pop and Ellie Goulding who has proven her songwriting over the years and also been part of the electronic scene.
Was there a female artist that really inspired you?
When I heard "Back to Black" from Amy Winehouse I was, like, wow. To hear such a soulful voice that feels like it's from a different era, I mean it felt so fresh and unique and that was something that opened my eyes and made me believe that it's not always about churning out the same thing in this industry.
Now being signed to Simon Cowell's label and having him as a mentor must also be inspiring. Is he really as tough as he comes across?
He's lovely. He's come across so many people and I think with me it was different, he's even said that he's never worked with someone like me before. I knew what I wanted and where I wanted to go with things but I needed direction and guidance and that's what he's done for me.
Whether it's been a gig or an event that I've done and he's attended, he's always really cool, you know? He's got his buttons undone, he's drinking beer from a bottle -- he's just a normal guy with an amazing sense of humour. I describe him as the "Rolls-Royce of the music industry." He's gotten to where he is because of his drive and determination and those are things I take from him.