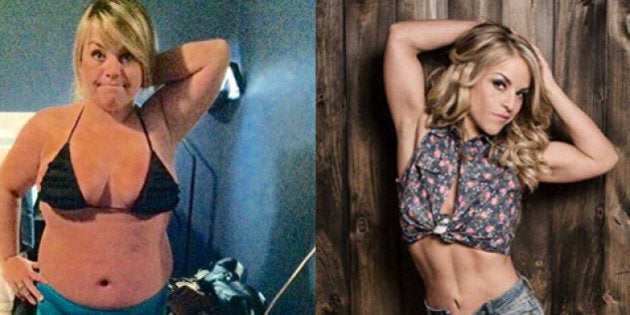 By The Numbers: 177 pounds at my heaviest, currently 112 pounds, for a total weight loss of 65 pounds.
The Weight Gain: As a kid, I think I could have been categorized as the "chubby" one. I was your average kid who played multiple school sports, and played additional soccer and tennis outside of school.
Slowly from high school on, I started to put on weight. I enrolled in a practical nursing program, and two years of bad studying habits, long nights, stressful days and the odd party or two later, I was 20 pounds heavier. I was probably about 150 pounds when I graduated from college in 2009. I took a permanent job with the local health authority as a licensed practical nurse.
Final Straw: In the summer of 2011, when I least expected it, something bad happened – something that would change my life forever. I was put off work by my doctor indefinitely and told I was experiencing symptoms of Post Traumatic Stress Disorder (PTSD).
I was finding myself so easily overwhelmed. I would cry a lot more and started to have nightmares. I was given anti-depressants and anti-anxiety medication and was set up with a counsellor, but after a few months of that, I found myself even more frustrated, even more helpless.
I found my comfort in sleeping pills and food, and blew up to my heaviest weight of 178 pounds.
The Plan of Attack: My best friend and roommate at the time, Lori, was an avid gym-goer, and encouraged me to go with her. I tried on and off but at first, but eventually it caught on. At first, I saw a trainer at the gym and I thought he was gorgeous. Next thing you knowm I had signed on for three sessions a week for almost the better part of a year. Slowly but surely the weight started to move. With every week, I saw more change. With every pound I wanted to lose another. It was constant motivation watching myself empower myself! It helped with my anxiety (punching things is legit – do it), then it became an addiction of sorts… but a good one.
Story Continues Below. Check out more of our inspiring weight loss stories: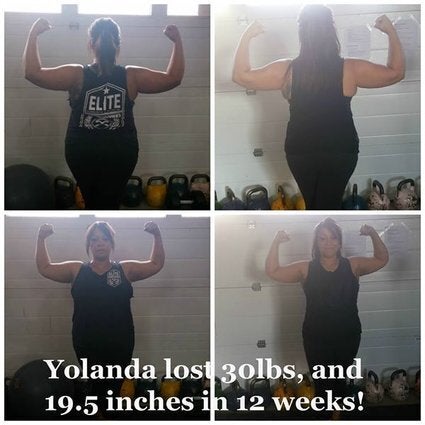 Lost It: Weight Loss Success Stories
The Exercise Factor: After eight months away from work I finally made it back, a mentally and physically stronger me. I had been able to cut almost 40 pounds with my trainer and was at about 135-140, but I had a new goal now — I wanted to compete in body building.
I knew another 40 pounds were be left to cut, so I got to work, lost a few myself and then hired a contest prep coach. I made it to stage in November 2013. I stood up there proud and anxiety-free. Nightmares, panic attacks, negative thoughts ... it all went away in that moment. The MC announced my weight loss journey to stage and the crowd went wild. I hit one more pose and smiled bigger than ever before. I was there for every girl who never thought they could. I was there for the girls who had been in that gym day in and day out and never gave up, even when most expected them to. I couldn't believe I was there. It was the best day.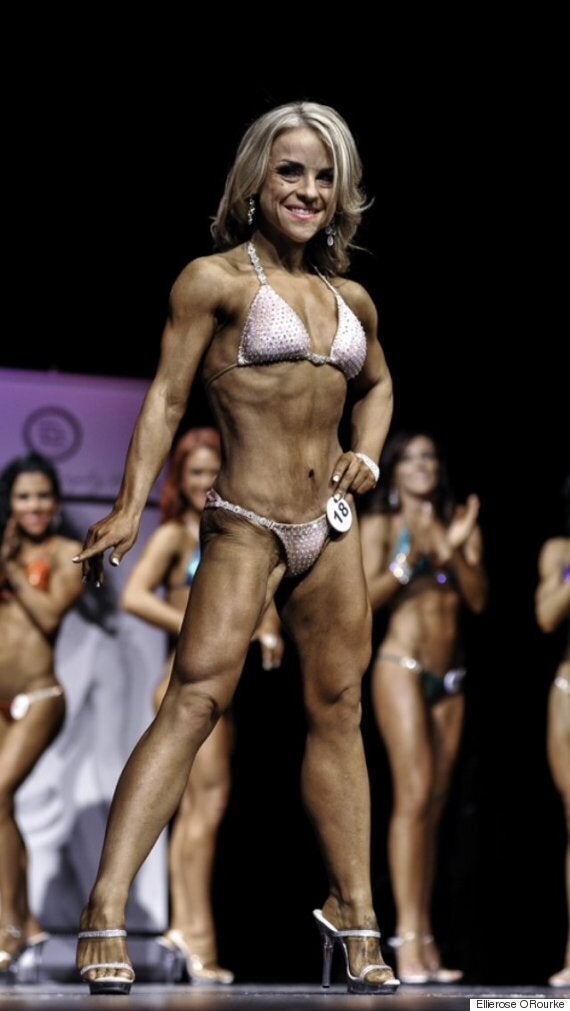 Currently I'm prepping for competition so I'm lifting five out of seven days a week and keeping cardio consistent daily. Prior to this prep I was lifting maybe three times a week with some cardio when I felt up to it.
The Food Element: When I'm not dieting like I am currently for a body building show, I try to keep my diet high in protein and definitely high in carbs.
I also cut out junk food. I was known to eat a bag of chips and a chocolate bar nightly before bed. There would be days I saw multiple drive-thrus.
For me, the hardest adjustment was post competition in 2013. I had lost almost 80lbs and really had no idea where my body was going to end up. I had some serious struggles with food at that time. The hardest adjustment is definitely finding a proper balance and exercising.
The Current Day-to-Day: My days are unpredictable. That's the best way to put it. In telling my story of weight loss I'm hoping to empower those suffering with mental illness. I found the gym, weights, cardio, competing, and ditched the comfort food, the tears and some of the pills. My PTSD and its symptoms will never go away but it is completely up to me as to how I handle them. The gym helps me do that. I almost wish I found the gym sooner. It is my anti-depressant. I usually hit the gym daily and take my time, I get totally into my music and dance around sometimes even — Why not ? I'm happy!
Maintaining weight has been hard, and hasn't always gone well. However, I have found that a "If It Fits Your Macros" approach and a solid consistency with cardio got me back where I should be.
What am I most proud of? All of it. I was not only able to lose 80 pounds, but I was able to gain my confidence back and return to my true love, which was nursing.