REX Features
We're days away from descending upon the Underwood-run White House in "House of Cards" Season 3, where Claire and Frank will undoubtedly deliver a whole world of hurt to everyone they've ever met (and also us).
So of course, it's time to bask in the glory of Claire Underwood's wardrobe. (Yes, we'll romanticize what she wears, but no, we're not condoning what she does.) Clean lines, crisp neutrals, and what appears to be most of the Banana Republic catalogue dictate the new First Lady's aesthetic, but just in case you need a little more guidance, here's how to channel Frank's other half/the criminal mastermind on your own.
1. A Tailored Silhouette
Here's something Claire would rather give up power than do: give up her sleek, ultra-fitted pieces that have become an Underwood trademark. Ultimately, they send an important message: she means business. (And excess fabric will slow her down.) So to get the look yourself, head to Ralph Lauren's pre-fall 2014 collection or throw on pencil skirts and button-up blouses to remain as aerodynamic as possible. (That's why she's dressing like this, right?)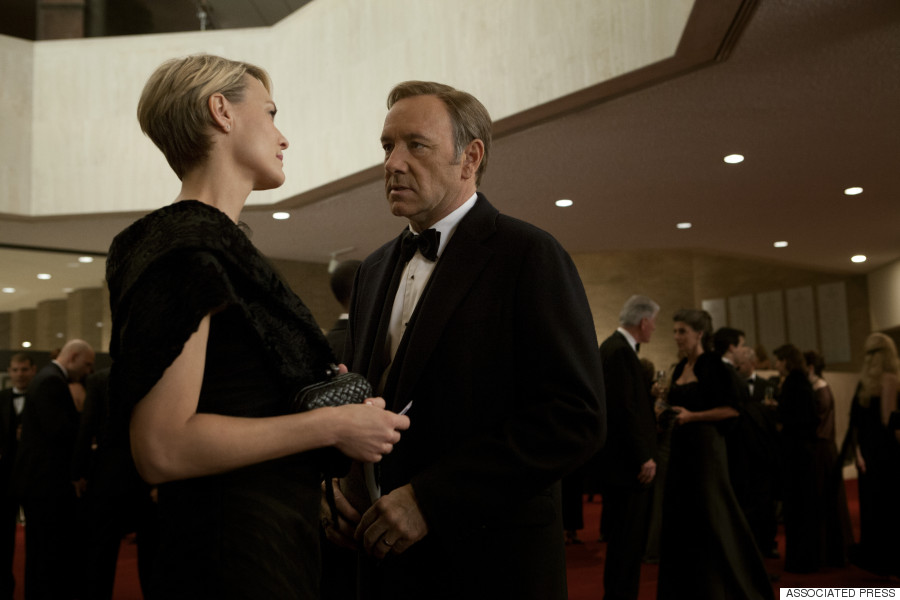 2. Neutrals
Sometimes Underwood wears blue. She may have even worn red at some point. But prints? Pink? Faux fur? No. Never. Neutrals don't just make her unreadable (think about all the First Ladies and how their pieces tend to give away their personalities), she's like a blank slate -- she becomes whoever the person she's working with wants her to be. Back in her not-for-profit days, we saw her in vests and blouses (which we're sure will never happen again), making her seem accessible. Now, she's in one of the most powerful positions in America, just as unreadable, but far from casual. Dump all the colour out of your wardrobe and do the same*.
*Don't really do that. Just maybe buy a black dress.
3. An Oversize Bag
That's why her bag is so big: it's full of secrets.
4. Belts
Remember what we said about creating a streamlined silhouette? Enter: the skinny belt, Claire Underwood's favourite thing. (Seriously.) Fortunately, this one's easy to do on your own: if your piece (dress, pencil skirt) is equally fitted, a belt will add a little extra shape while also breaking up the monotony if you're wearing the same tones. It's also more business: an oversize, hip-slugging belt is an homage to the 1970s -- easily the last era Claire draws from. This isn't "Mad Men." (But if it was, Claire and Don would make the perfect couple.)
5. Thick-Framed Glasses
While "House of Cards" is a wonderful show, odds are you're still probably not going to run out, chop off your hair, and dye it blonde because of it. (Although if you do: fair, and congratulations for being so committed.) So if you're feeling particular Claire-esque, take the easy way out and do it with glasses. Thick-framed and cat's eye (or Ray Bans, because girlfriend is hip), you too can cultivate power with just an accessory.
(And if anybody has any issues with them, simply quote Claire herself and ask if you're really the sort of enemy they want to make.)
6. A Trench Coat
Here's your excuse to finally get one, and you're welcome. While we didn't (and don't) see it a lot, lest we forget Claire Underwood's black, knee-length A-line trench coat she's worn a handful of times (which is enough for us to justify buying one to wear on days we need to feel like being a boss). Fortunately, finding a well-fitting trench isn't a feat: Burberry's built an empire on the look, while Banana Republic offers a version that's a little more budget-friendly. Thank you, Claire, wherever you are. (In the White House.)
7. Black Pumps
Nobody here was joking when we stressed the importance of neutrals in the wide world of Claire Underwood, and that rule applies to even her footwear, which, for the most part, is black. (Or more specifically: black Louboutins because of course.) Which makes sense: her clothing choices make sense, so of course she'd build her neutral vibes from the feet up. They're also timeless: like 99 per cent of Claire's wardrobe, she can wear these with anything, and they're not going to go out of style anytime soon (or ever).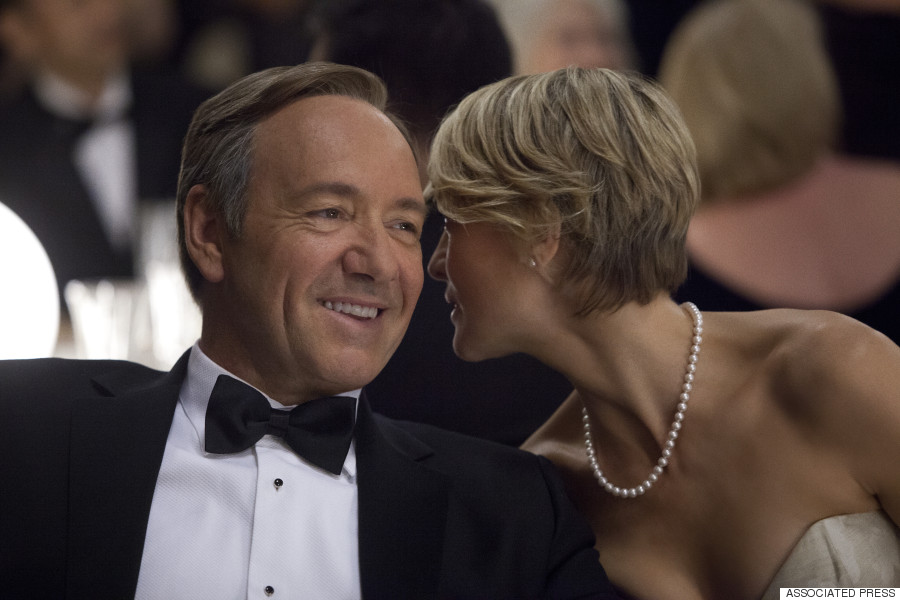 8. Absolutely No Accessories
Tired of necklaces? Of bracelets? Of anything but maybe one string of pearls one time at a black tie function? Welcome to Claire Underwood's world: a universe in which jewellery will just slow you down. Namaste.
9. Fitness Gear
Wouldn't it be awesome if Claire's idea of fitness clothes was everything you've ever seen in a "Saved By the Bell" workout montage? (Yes. But unfortunately, too bad.) Instead, it is literally just the same, but in fitness form: neutrals, well-fitting, and kind of terrifying. (How dare she wear a hat so well.) To do the same thing? Think black leggings, grey zip-ups, anything that puts everybody at the YMCA to shame. (Aerie's a good place to start.) And above all, row.
10. A Short, Blond Pixie
You've come this far: you could at least try. (At least on behalf of those of us who can't, won't, and never will.)
Follow Huffington Post Canada Style on Pinterest, Facebook and Twitter!