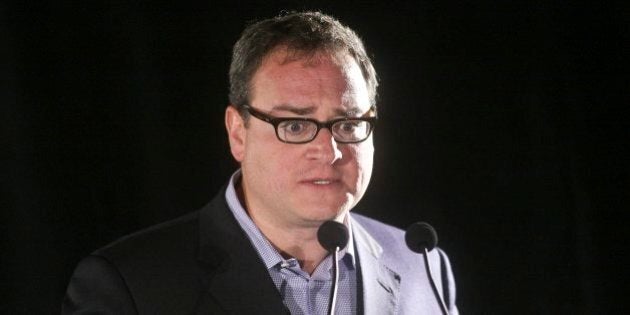 Would you pay $1,000 to speak with Ezra Levant or Brian Lilley for 15 minutes about the day's top news stories?
How about $250 for a Google hangout with same?
Those are some of the "perks" being offered to donors to Ezra Levant's crowdfunding campaign to build a news studio for his fledgling site, The Rebel.
Levant, fresh from losing his gig at Sun News when the network folded earlier this month, launched The Rebel last week in front of a camera set up in his living room. Now Levant is counting on his loyal right-wing followers to build the site into a full-on online news studio.
The campaign appears to be succeeding. In the space of several hours on Wednesday afternoon, the number of fully-funded, $4,000 cameras jumped from three to five.
The toughest ask in the campaign is money to hire journalists. Levant is raising $40,000 apiece to hire an investigative reporter, a Middle East correspondent, an energy reporter and a civil liberties reporter.
A $40,000 salary is low for a reporter at a national news organization, but maybe not half bad for someone working at an upstart news site.
So is Levant plotting a new TV network to replace the defunct Sun News?
Probably not, given that in his manifesto launching The Rebel, he declared that TV news is being "eclipsed by the internet."
"My most popular show I ever did on the Sun News Network was a series of videos I did that went viral," Levant said shortly after Sun News folded.
"When we actually aired those shows, maybe I had, say at most, 50,000 viewers on TV. But I did a series of shows that got over 300,000 or 400,000 views each on the Internet."
(Fifty thousand viewers would have been a major success by Sun News standards — the network reportedly averaged 3,600 viewers at any given time during the 2013-2014 broadcast year.)
Levant is taking advantage of an outpouring of support from Sun News' small but loyal group of followers after the news-and-talk channel's demise this month.
Sun News devotees blamed the network's shutdown on an uncooperative telecom regulator that wouldn't grant the network mandatory carriage on cable, and on cable companies that either refused to carry the network or buried the channel high up on the dial.
Whatever the reason, the network failed to attract a large audience and was losing money at a rate of more than $15 million a year when owner Quebecor shut it down, affecting 200 employees.