Joey Moss has been a part of the Edmonton Oilers (and the Eskimos) longer than most players and coaches and now, the city's best-known locker room attendant is set to join the Alberta Sports Hall of Fame.
Moss, who was born with Down syndrome, is going to be among some of the province's greatest athletes at a ceremony in Red Deer in May.
Moss has been with the Oilers since 1984, when Wayne Gretzky brought him to the team's attention.
Then-coach and GM Glen Sather hired him as a locker room attendant, hoping he could improve the man's confidence and self-esteem, The Edmonton Sun reported.
Moss has served the team ever since, cleaning the locker room, preparing water and towels, and handling equipment for practices and games.
He's also a well-known presence at games, singing the Canadian national anthem from a seat behind the team's bench.
Moss would go on to work with the CFL's Edmonton Eskimos starting in 1986, helping the team out at its summer training camp and then continuing his stint with the Oilers in the winter, said the Edmonton Journal.
In 1986, he appeared with Gretzky in a well-known public service announcement for the group now known as the Canadian Association for Community Living.
In it, the Great One implored viewers to let people with certain mental conditions "be part of your community."
The ad ended with Moss and Gretzky touching their heads, while Joey exclaimed, "Gretzky!"
Sun comment writer Cam Tait said Moss is an inspiration for people with disabilities, showing that they can make big contributions to sports teams, even if they don't take the ice.
Moss has been honoured numerous times over his career with the Oilers. In 2003, Gretzky presented him with the NHL Alumni Association's "Seventh Man Award," awarded to people who contribute behind the scenes.
And in 2008, he became the face of a mural on Edmonton's 99th Street.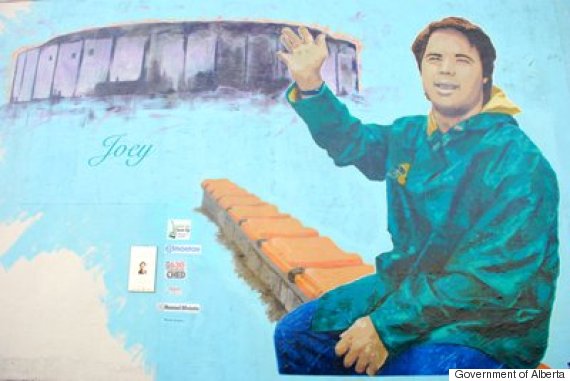 Moss is being recognized alongside hockey players Carla MacLeod and Bruce MacGregor, Olympic curler Kevin Martin and Flames broadcaster Peter Maher in the 2015 inductions.
Like Us On Facebook

Follow Us On Twitter

ALSO ON HUFFPOST: