Pat Martin's quip about his underpants in the House of Commons last week landed him an offer from a Los Angeles-based company to star in an underwear ad.
"They wanted a 30-second testimonial that they'd put on their website… I'm wearing my undies, making the world safe for democracy," the Winnipeg Centre MP told Global News.
Martin confirmed to HuffPost Canada that MeUndies did reach out to his office shortly after a video of his cheeky explanation to Parliament went viral. The company even sent him samples, but the MP says he ultimately decided to turn down the offer.
The NDP politician briefly left his seat in House of Commons during a vote on Thursday – a parliamentary no-no, according to rules that order lawmakers to stay put during counts.
The outspoken Martin blamed his short absence on his undies.
"I can blame it on a sale down at the Hudson's Bay," Martin explained to the deputy Speaker. "They had men's underwear on for half price. I bought a bunch that was clearly too small for me and I find it difficult to sit for any length of time."
"I apologize it was necessary for me to leave my seat briefly, but I did not mean to forfeit my right to vote," he said.
The remark left some New Democrats in stitches over Martin's gitches, while others shook their heads across the aisle.
But the following day, the truth got the best of him and he admitted the remark about his knickers was a ruse. He actually stood up to ask the deputy Speaker to clarify the motion that was up for voting.
"I actually did just buy an armload of drastically reduced undies at the Bay, a dozen or more pairs that were probably on sale because many are wild colours that clearly weren't big sellers," Martin told Winnipeg Free Press.
Looking back, Martin says had the company offered to donate 1,000 pairs to homeless shelters in his riding – that would have been a good pitch.
The remark has earned Martin plenty of attention at home and abroad, but also some unorthodox, er, support from his boss.
On Wednesday, Tom Mulcair gave the outspoken MP a pair of "panic" underwear.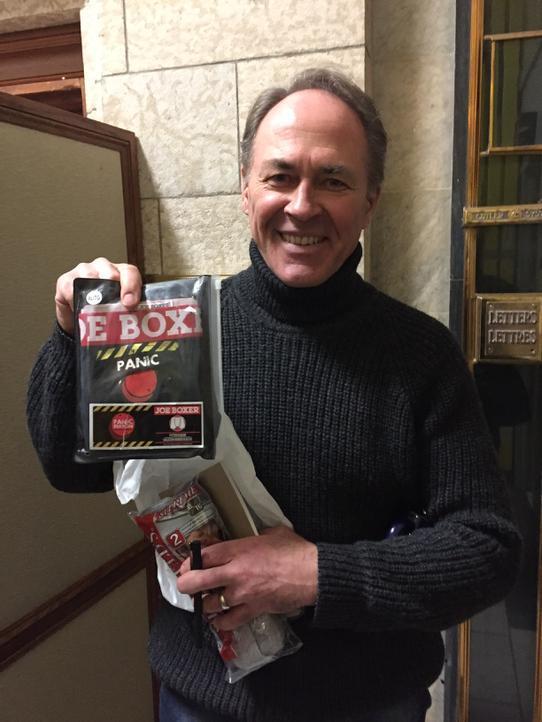 With files from Althia Raj
ALSO ON HUFFPOST: