You may think we're stuck in winter forever (especially at the rate we're going), but spring is on the horizon (we swear) and with that comes all the 2015 spring trends we can't wait to add to our wardrobes.
What's best, is that many of the trends for the upcoming season are things we've seen before. That means, we may be able to incorporate a lof of the pieces we've already stocked up on from last year (hooray for shopping your closet!). But, everyone could still use a little inspiration, right?
What are you waiting for? Check out the spring fashion trends we're most excited about (get outta the way, winter—no one likes your style!):
(Story continues below the gallery)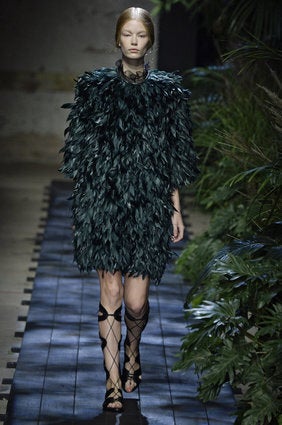 2015 Spring Fashion Trends
1. Leather, Leather, And More Leather
Nothing goes together quite like florals and springtime. We saw versions of the print presented by designers like Victoria Beckham and Max Mara, both of whom were thinking pink, as well as Matthew Williamson, and Celine. Flower power forever!
The 1970s proved to be quite inspirational for plenty of designers this season, especially Frida Giannini at Gucci and Peter Dundas at Pucci. There was plenty of buttery brown suede, rich jewel tones, fringe, and neckties -- perfect for channeling your inner Stevie Nicks.
Designers seem to have jumped on the comfortable shoe bandwagon for good! We're still seeing flats (and sneakers) on the runways, and our feet are rejoicing. Our favourite take on the flat shoe trend was definitely the Chanel ankle strap loafers -- we need them in our closets, ASAP.
White on white on white was a huge trend on the spring 2015 runways. It's fresh and light -- perfect for spring. Notable designers who tried the trend were Alber Elbaz at Lanvin, and Christope Lemaire. We'll definitely be trying this out for ourselves once the warm weather hits.