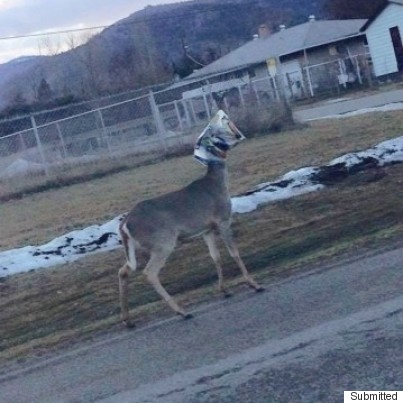 A deer with a plastic bag stuck around its head got a helping hand, and a lasso, from about a dozen residents of Grand Forks, B.C.
The animal was first spotted on Saturday evening with the seed bag tightly wrapped around its head.
"We thought the deer would get the bag off its head but it wasn't off in the morning and I said, 'We've got to get it off,'" Lorraine Dick told The Huffington Post B.C.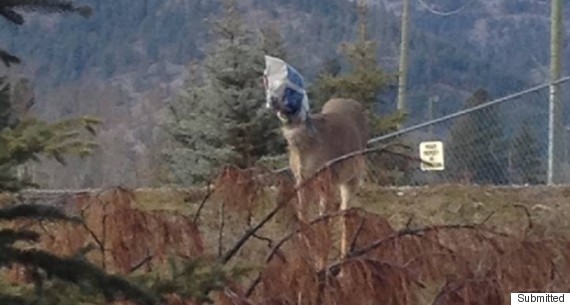 She rallied neighbours on a Grand Forks Facebook page around 6 a.m., and about a dozen people managed to contain the deer in one area.
Colette Orr, who runs a family farm, got close enough to attempt to pull the bag off with a pair of claw grabbers, but it was too tight around the animal's head, said Dick.
Orr's 14-year-old son, Aezia Orr, stepped in and lassoed the deer with a rope.
"Once we got the lasso on, of course, it fought," Dick said of the terrified deer. "Aezia reeled it in and wrapped it around the tree, got close enough, and pulled the bag off."
The rescue wasn't quite complete, as the group had to remove the lasso from the flailing animal, who eventually laid down.
Once the rope was off, the group stepped back for the deer to run off.
"It was a wonderful bunch of teamwork to make this happen," said Dick.
Like Us On Facebook

Follow Us On Twitter
EARLIER ON HUFFPOST: