AP
The green-eyed "Afghan Girl" who once appeared on an iconic National Geographic cover has been caught up in an investigation into allegedly false documents that allowed her to live in Pakistan.
Documents show that 46-year-old Sharbat Gula, going under the name "Sharbat Bibi," obtained a Computerised National Identity Card (CNIC) alongside two men who have been named as her sons, Pakistani newspaper Dawn reported Tuesday.
All three cards were illegally issued in one day last year to Gula, Rauf Khan and Wali Khan, sources at Pakistan's National Database and Registration Authority (NADRA) told the news outlet.
Four officials have been suspended from NADRA's office in Hayatabad amid a probe into the cards, which can only be legally held by Pakistani nationals, reported AFP.
Gula is reportedly among thousands of Afghan refugees who have obtained the cards. She allegedly did it using documents that falsely identified the two men as her sons, though other reports have said she has three daughters.
"They may not be her sons but this is a common practice among Afghan refugees whereby they list names of non-relatives as their children to obtain documents," an anonymous NADRA source told Dawn.
A picture obtained by the site apparently shows Gula, identified as Sharbat Bibi, wearing a black hijab and displaying bright green eyes, similar to the ones made famous by the National Geographic cover.
Gula first appeared in the magazine in 1985, in a picture taken by photographer Steve McCurry.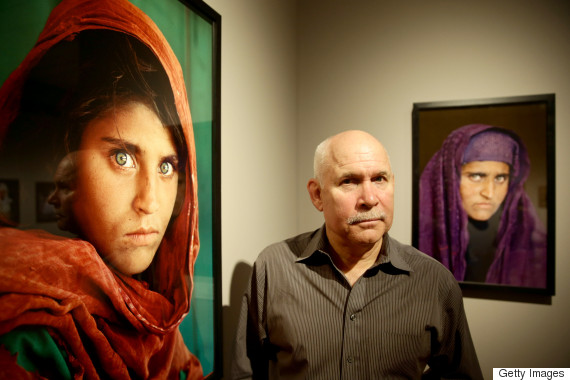 At that time, Gula was living in Nasir Bagh, a refugee camp close to Peshawar, Pakistan, after she and her brother fled the Soviet invasion of Afghanistan.
Seventeen years later, National Geographic discovered that she had returned to Afghanistan, found her and took her picture once more.
The UN Refugee Agency estimates that Pakistan is hosting nearly 1.5 million Afghans, the "largest protracted refugee population globally."
The agency has helped as many as 3.8 million Afghans return from Pakistan since 2002, it said.
Like Us On Facebook

Follow Us On Twitter

ALSO ON HUFFPOST: