Close to 500 garter snakes are getting settled in a new winter home, after their hibernation den was disturbed by construction in Delta, B.C.
Residents alerted crews reinforcing the dike near Beach Grove this week that there was a ball of sleeping snakes under some rocks, reported The Vancouver Sun.
The snakes are cozy in groups of 20 in plastic tubs with damp wood shavings and a dish of distilled water, said the WRA. During hibernation, known as brumation, snakes drop their body temperature so they don't have to use much energy.
"We don't have to feed them ... they just need to be kept cool and they should be happy in the tubs," WRA spokeswoman Yolanda Brooks told the Sun.
The serpents will be released back into their habitat around April.
Check out some photos taken by WRA volunteer Paul Steeves: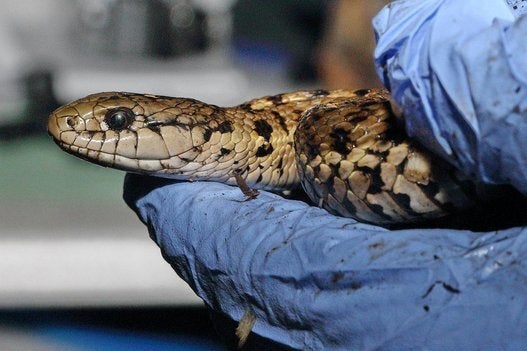 Hibernating Snakes Rescued In Delta, B.C.