We don't really understand what's going on right now but "The Internet" is freaking out over #thedress and while we can't explain the phenomenon, we can definitely embrace it.
So, here's the deal: a photo of a dress appeared on Tumblr yesterday, which started an Internet firestorm that may never cease. (At least until the next Internet star comes along.)
Some people see the dress as white and gold, while others see it as blue and black.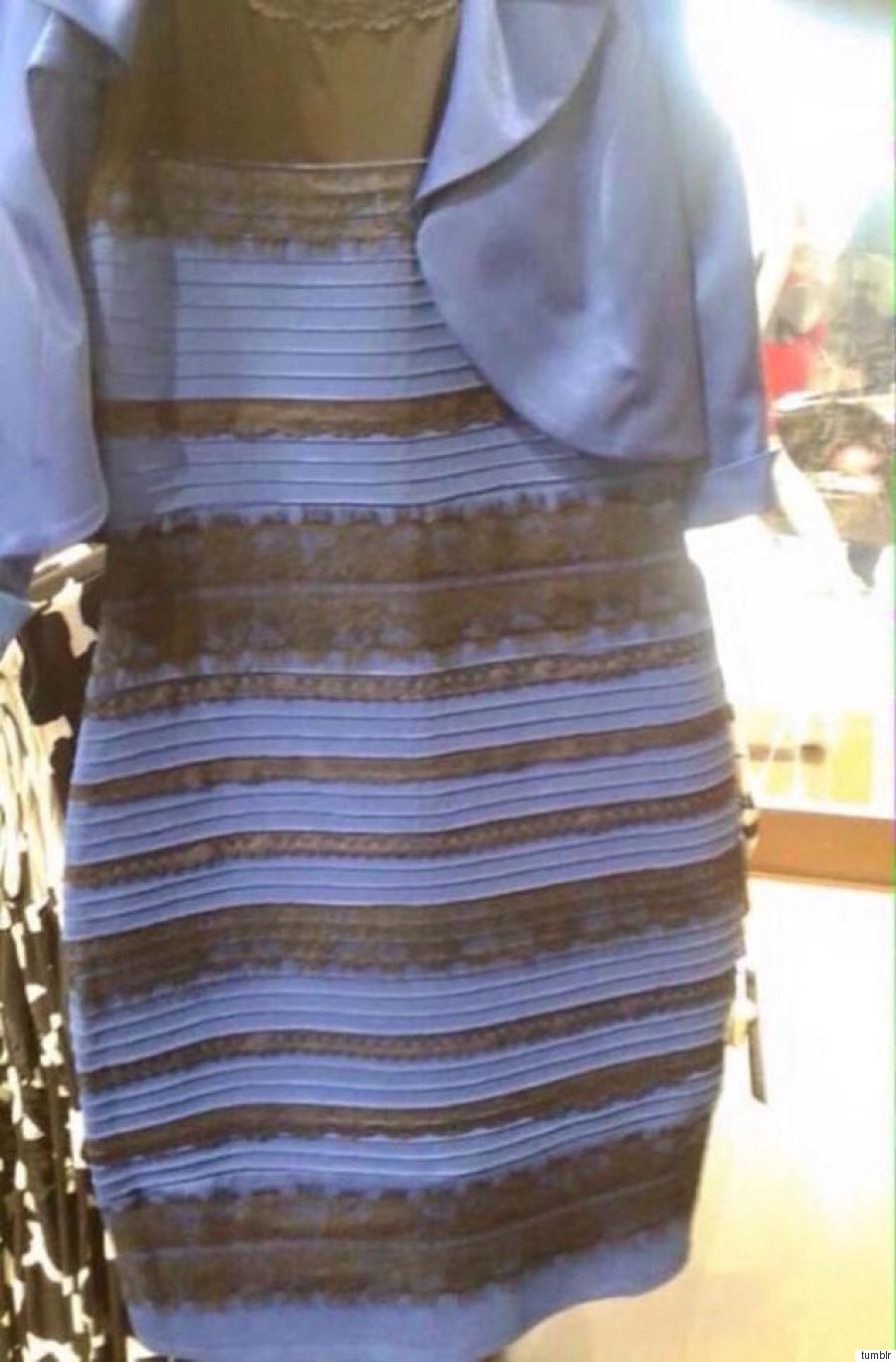 Scottish musician Caitlin McNeill posted a picture of The Dress on Tumblr with the caption, "guys please help me — is this dress white and gold, or blue and black? Me and my friends can't agree and we are freaking the f*** out." The post has already been viewed nearly 21 million times (!!!).
Update: Caitlin revealed to Roz and Mocha on KISS 92.5 the real colour of the dress.
Even celebrities can't figure out what colour the god damn dress is, and if they can't figure it out, who can??
Justin Bieber is on #teamblueandblack:
And for everyone asking I see blue and black

— Justin Bieber (@justinbieber) February 27, 2015
Taylor Swift is also a gold and white denier:
I don't understand this odd dress debate and I feel like it's a trick somehow.

I'm confused and scared.

PS it's OBVIOUSLY BLUE AND BLACK

— Taylor Swift (@taylorswift13) February 27, 2015
At risk of angering Beliebers, Jimmy Fallon pledged his allegiance to #teamwhiteandgold:
. @questlove it's clearly #goldandwhite #TheDress

— jimmy fallon (@jimmyfallon) February 27, 2015
Demi Lovato is clearly on the brink of some kind of breakdown:
Hold on.... So people actually see white and gold....??!! 😰😱

— Demi Lovato (@ddlovato) February 27, 2015
Mindy Kaling is really angry about it:
IT'S A BLUE AND BLACK DRESS! ARE YOU FUCKING KIDDING ME

— Mindy Kaling (@mindykaling) February 27, 2015
Ariana Grande is so over it:
if one more person asks me what color i think this damn dress is

— Ariana Grande (@ArianaGrande) February 27, 2015
Kim Kardashian and Kanye West are on opposite teams:
What color is that dress? I see white & gold. Kanye sees black & blue, who is color blind?

— Kim Kardashian West (@KimKardashian) February 27, 2015
An Oscar winner is firmly in #teamwhiteandgold:
@mindykaling @bjnovak what's the matter with u guys, it's white and gold.

— Julianne Moore (@_juliannemoore) February 27, 2015
Zendaya is flipping out:
So it's deff white and gold but then I just saw it as black and blue too.....TRIIIPPPPYYYYY #imdonewiththeinternet 😂😂😂

— Zendaya (@Zendaya) February 27, 2015
David Duchovny threw us for a loop with this:
The dress is Teal. 👗

— David Duchovny (@davidduchovny) February 27, 2015
Miley Cyrus may be on to something:
If you want to get all science-y about it, head over to Wired to see their explanation of why the dress is actually black and blue. (Ahem, we think they're wrong, White and gold all the way!)
We can't believe this is a thing.
Follow Huffington Post Canada Style on Pinterest, Facebook and Twitter!