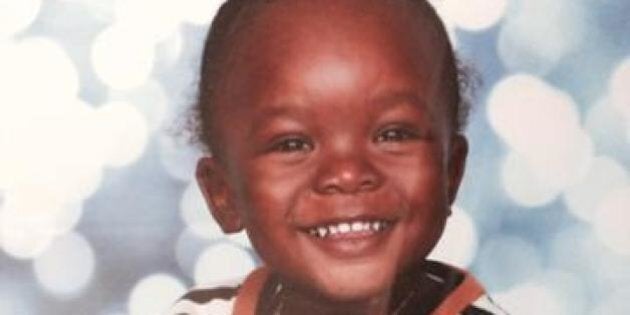 TORONTO - Hundreds of mourners filled a Toronto church to capacity, spilling out onto the streets for Saturday's funeral of three-year-old Elijah Marsh, whose tragic death earlier this month touched the hearts of Canadians across the country.
Elijah died after he wandered out of his grandmother's apartment building on Feb. 19 in the middle of a frigid night wearing just a diaper, shirt and boots.
His funeral drew people from across the Greater Toronto Area. Some lined up for hours to pay their respects to the Marsh family at the St. Matthew's United Church, many of whom did not know the family personally but who were deeply affected by Elijah's death.
"I am here to support the family, I don't know them but I lost a son four years ago so I know what it is like to lose a child," said Beverly Williamson of Brampton. "The memories will stay forever, the pain will never go away, but they will learn to deal with it and cope with it as the days go by."
The church was filled to capacity before the service even began, while a nearby warming centre where people could sign a guestbook was also packed with those who wanted to share their grief with the family.
Devon Haughton, who also attended the service, said there was an incredible outpouring of support from the community.
"There is an abundance of love and prayers out there for them. It's just amazing that the community came out in droves." he said.
"That shows that this city, Toronto, is a caring, loving city and in times of woes and in times of troubles, Toronto you support each other."
Haughton added he was particularly struck by the eulogies given by family members including Elijah's mother Georgette Marsh and his father Curt Barry.
"Yes, it was moving," Haughton said. He's an angel and taken away by nature, bitter cold, he's covered now, he's well protected now."
Elijah's mother, Georgette Marsh, told the mourners at the service, segments of which were broadcast by Toronto TV station CP24, that she had wished she had more time with Elijah.
"Anyone who knows me knows that my children are my world," she said. "Even if I could spend 365 days a year with them I would still ask for more time."
A pickup truck filled with flowers, and a school bus sat outside of the church, after bringing mourners from around the city, while people remained outside in the cold in a show of support for the family.
Jean Richards, who has 13 grandchildren, also did not know the family but came out to show her support.
"I'm coming from Richmond Hill, I'm a grandmother, my heart feels for the family, especially for the grandmother who was overseeing that child. I can't imagine what she feels right now," she said.
Jude Charles, a family friend, said that she was turned away at the door to the church with hundreds of others who waited in the parking lot for a chance to say goodbye to Elijah.
"I couldn't get to go inside, but it's a very horrible feeling. It's hard to know that the child died out in the weather that we're standing in now, and it was worse. It's not a good feeling at all," she said.
Others saw Elijah's death as a way of bringing the community together and of learning to prevent a repeat of such a tragic incident.
"This can happen to anyone of us and this can help pull us together and make this place a better place," said Leonard Mullings, who does not know the family personally but felt obligated to attend.
"I have a grandson and it could happen to me."
The outpouring of support wasn't confined to Toronto _ two online fundraising campaigns generated a tremendous response from across the country, according to organizers. One of the campaigns raised more than $173,000 to help cover the cost of the funeral for the family.