In general, temperatures across Quebec and southern Ontario were seven to nine degrees colder than the historic averages.
Quebec experienced the coldest February since at least 1889 - for example, Montreal recorded an average temperature of -14.9 C, compared to an average of -8.5 C.
Other parts of the province fared even worse, with Quebec City reporting a temperature of -17.8 C.
Environment Canada meteorologist Maxime Desharnais says it was the persistent cold and wind that set this year apart.
He said a jet stream of frigid air from the Northwest Territories kept a cold air mass trapped over parts of Ontario and Quebec for most of the month.
"The physics of the atmosphere just meant it took a long time to move," he said.
Ottawa recorded its coldest-ever February, with an average temperature of -16.8 C, shattering the former record set in 1979.
In Toronto, it was the first February in 75 years where the temperature did not climb above the freezing mark.
Many Maritimers spent most of the month digging out after record snowfalls. Both Halifax and Moncton recorded more than double the average amount of snow for the month.
Charlottetown was buried under more than seven feet of snow (222.8 cm), including nearly 90 cm in a single storm that hit PEI's capital on February 16th.
By comparison, residents of British Columbia's lower mainland have had reason to gloat as they experienced weather that was comparatively springlike.
The province as a whole was three to five degrees warmer than normal, which Desharnais said was "very significant."
Vancouver recorded an average temperature of 7.5 C, with temperatures climbing to 14 C on some days in February.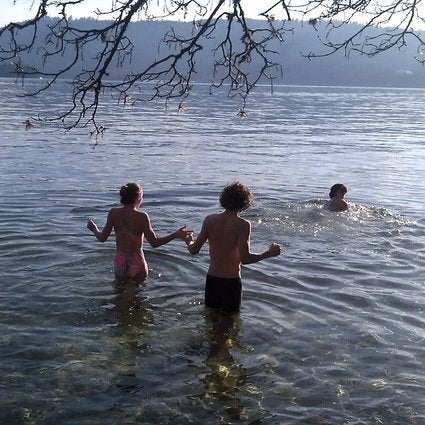 Winter Swimming In North Vancouver, B.C.