National Geographic
It has almost been one year since Malaysia Airlines flight MH370 disappeared from radar and became one of the most baffling aviation mysteries of all time.
Several theories have been floated, from the possible -- the plane was switched to autopilot and plunged into the ocean, the plane was hijacked and taken to a remote island for unknown reasons -- to the ridiculous, like the concept of aliens "kidnapping" the aircraft.
Now, almost one year after the tragedy, a senior Boeing 777 captain, Simon Hardy, has come forward with a new theory about what happened to the missing plane; it is a theory based on emotion, something not really considered before. Australian officials say the theory is "credible." It has also been published in Flight International Magazine and on the Flightglobal website.
Hardy claims that the plane was taken on an "emotional farewell" over pilot Zaharie Ahmad Shah's home island of Penang before it landed on the ocean below. It sank from there. Hardy does not use the term "crashed." He believes the aircraft was depressurized, and that passengers and crew lost consciousness.
Article Continues After Graphic!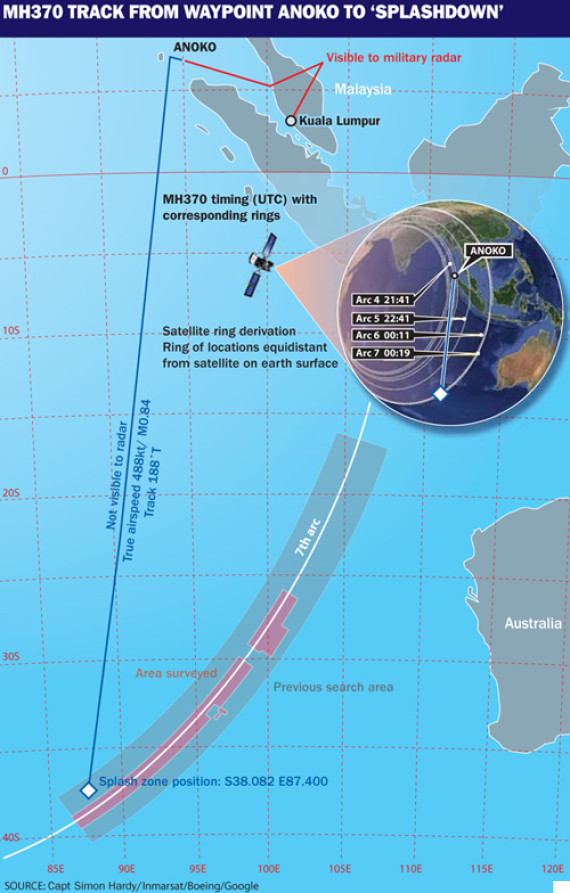 After studying the missing plane's flight data for six months, Hardy believes that after flight MH370 took off from Kuala Lumpur, the aircraft lost contact with air traffic control over the China Sea, where four flight information regions intersect. Once the transponder was turned off, the aircraft did something "quite remarkable" -- it flew in and out of Malaysia and Thailand eight times.
"I've never seen anything like that, but it is a good way to cause confusion between the controllers," said Hardy to The Huffington Post UK.
"Someone did a nice long turn and looked down on Penang. It's perhaps the only clue to the perpetrator."
Hardy also believes the search in the Indian Ocean is approximately 100 nautical miles away from the jet's final resting place on the bottom of the ocean. His calculations lead him to believe the plane was ditched in the Andaman Sea, two nautical miles from navigation waypoint Anoko, close to the Andaman Islands.