Martin Le-May was out for a stroll with his wife Ann in east London's Hornchurch Country Park on Monday when he stumbled on an incredible sight.
Le-May, a photographer, hoped to spot a green woodpecker, he told The Huffington Post UK.
But he found plenty more. The couple saw a woodpecker struggling on the ground before it flew past them with a small animal on its back.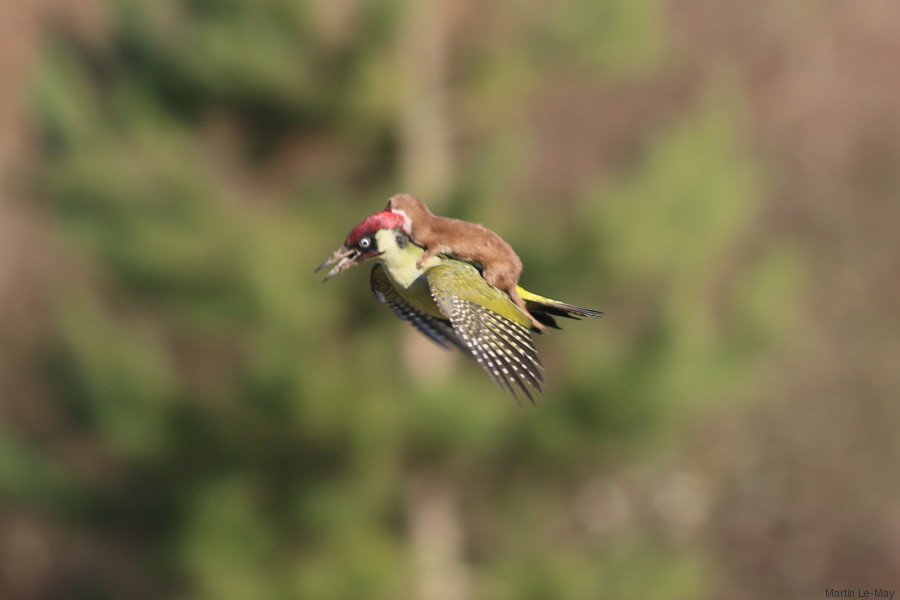 It turned out the woodpecker was set upon by a weasel and was fighting for its life.
SUBSCRIBE AND FOLLOW LIVING
Get top stories and blog posts emailed to me each day. Newsletters may offer personalized content or advertisements. Learn more
Le-May snapped an outstanding photo that had been re-tweeted almost 9,000 times as of Tuesday afternoon, after someone else posted it on social media.
The bird eventually doffed its attacker and flew away, while the weasel "just disappeared into the long grass, hungry," Le-May told HuffPost UK.
Lucy Cooke, a wildlife expert, told BBC News that weasels don't normally prey on woodpeckers, but that they are "fearless" animals.
"A female weasel weighs less than a Mars bar but is as ferocious as a lion, so this is why the woodpecker would have been able to take off with it on its back," she told the network.
The photo has become a meme, #Weaselpecker, and spawned plenty of alterations on social media.
Putin's latest PR shoot #WeaselPecker pic.twitter.com/kveSI00eIa

— james abraham (@_jamesabraham) March 3, 2015
Well done, someone. RT @marynmck: go home, folks.

RT @HayesBrown Aaand we've reached Peak Internet RT @msteeman pic.twitter.com/FESNE2LFWQ

— Justin O'Neill (@JustinJONeill) March 3, 2015
That photo of a weasel riding a woodpecker has spawned the #WeaselPecker meme. http://t.co/7uvf9zeOYQ pic.twitter.com/WK8dFYC1u2

— someecards (@someecards) March 3, 2015
@hahabita @birdchick #weaselpecker pic.twitter.com/2cYgxKTVqZ

— The Birdist (@TheBirdist) March 2, 2015
Like Us On Facebook

Follow Us On Twitter

ALSO ON HUFFPOST: