Jonny Gibson credits a cup of hot apple cider with saving his life.
The Saskatchewan man was driving on Highway 3 near Prince Albert on Feb. 21, when a huge piece of plywood suddenly smashed through his windshield.
"The split second I was leaning over was the split second this huge chunk of plywood went through my window," Gibson told News Talk 880, explaining that he had bent forward to grab his drink from the cup holder on the driver-side door.
"The officer said if I was sitting up it could have taken my head off," Gibson told the Star Phoenix.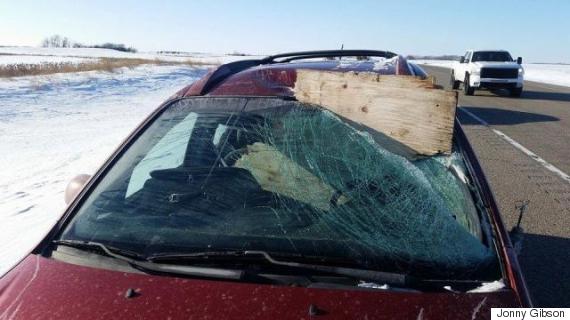 Gibson says he recalls wood splinters and glass shards spraying in his face. He thinks the wood came flying off an unsecured load in the back of a white pickup truck that was driving past him in the opposite direction, but says he has yet to find out who the driver of that truck was.
Gibson was able to pull off the side of the road, where he was examined by paramedics. Luckily, he walked away with just a few scrapes.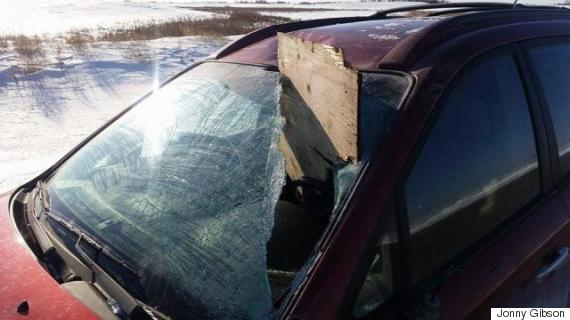 "I am very lucky to be alive," he told the Star Phoenix.
A similar incident is also being investigated by Humboldt RCMP, after a 2009 Chevrolet Cobalt was damaged by debris that flew out of the bed of a white pickup truck while driving on Highway 5 near Englefeld on Feb. 13.
Anyone with information on either incident is asked to call RCMP at 682-2535 or Crime Stoppers at 1-800-222-8477.
Like Us On Facebook

Follow Us On Twitter
ALSO ON HUFFPOST: