Fresh snowfall sanitizes a city, muting traffic, smoothing sidewalks and making parks pristine again.
But there's a tension stirring beneath that lunar landscape — as increasing numbers of humans and their canine companions share city spaces, that tension rises, often literally, to the surface.
As a city marches toward gentrification — buffing older, ailing neighbourhoods and often driving out long-established residents in favour of younger, more affluent youth — so too comes another, less-heralded phenomenon.
The hordes of young, up-and-coming, low-interest condo-consumers all seem to chant the same refrain: Freedom equals 500-square feet... and a dog.
But as development devours greenery, fresh strains and demands tear at shared spaces.
Few areas reveal the tensions of dogification quite like west-end Toronto's Liberty Village, a high-rise enclave that sprung up from industrial lands in the last decade or so — and hasn't stop springing since.
At this very moment, more than 4,000 people call Liberty Village home. And, yes, so do their dogs.
At the Village's northern fringe, Rita Cox Park is where they often collide.
Pitched precariously between tidy, suburban-looking townhouses and twin condo towers, this tiny park is somewhat of a microcosm of the perils of doggification — home to the tension between property owners, renters and families that erupts daily.
And when the snow melts, the carnage of battle is revealed — dog waste, withered trees, gaping holes.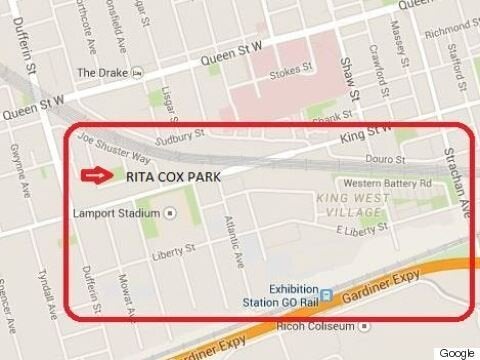 This Is Dogville's Ground Zero
It doesn't take long for complaints about dogs running free in a leash-only area to reach the office of Toronto City Councillor Gord Perks.
He recently donned his winter coat and paid Rita Cox a visit, where he was joined by a troupe of angry residents.
The representative for Parkdale-High Park pretty much stepped in it right away.
"We just came to the park, to let my dog run out a little bit," explained Alex Hess, a 32-year-old dog owner who has lived in Liberty Village for 13 years. "And I saw a group of people huddled together.
"As I was letting my dog off the other dog owners said, 'Quick, put him back on. They're talking about the dogs.'"
Hess made his way to the indignant huddle of visitors, where he was confronted by Perks.
"We're having this problem with off-leash dogs," the councillor informed him.
"Oh really?" Hess countered. "That's horrible. It's just terrible."
"Wait, are you playing with me?"
That exchange, in all its brazen snark, has come to embody the relationship between dog "freedom fighter" and the clear-cut trenches of official policy. Owners pilfer their off-leash moments and city officials are locked in perennial pursuit.
Of course, dogs don't know. They just want to feel the squishy earth beneath their paws, and stretch those springy legs, for a spell, liberated from the Lilliputian living quarters they share with two-legged roommates.
But increasingly, that freedom, anywhere in the city, is being curtailed.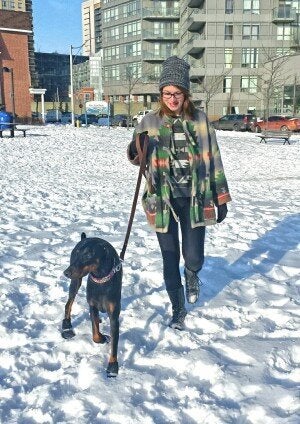 Spanning about half a block, Rita Cox is a generous expanse, even as it shivers in the shadow of a high-rise condo. In winter, it's virtually barren, with most of its visitors of the canine variety.
It's when the snow melts, however — much to the neighbours' horror — that the park reveals its ravages.
Dogs have hit it like a pack of vandals. The trees are long-dead, neighbours say, from a steady assault of urine.
Underfoot, clumps of dung nestle in the dead grass. The men and women who joined the city councillor that night to survey the scene wore their frustrations on their sleeve. One couple came to tell a story about their grandson being terrified by a dog in the park.
Another woman, who says she is a member of her condo board, seethed at what she deemed attitudes of entitlement among dog owners.
But aren't we all entitled to a green acre or two in the city? Even some of our closest companions?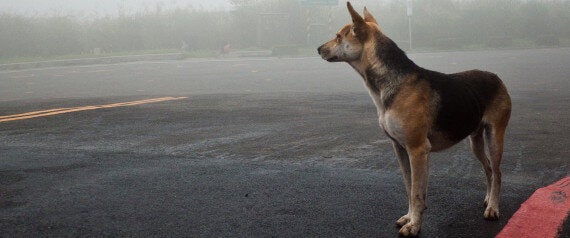 "The key question is whether dogs have rights to public space and in a certain sense I think they do," says Margaret Kohn, a political science professor at the University of Toronto.
"If we include domestic animals in our homes and lives, asking them to adapt to modern urban life, we have a corresponding obligation to respond to their needs and interests."
But increasingly, humans and dogs in tight urban quarters means friction. Just note the anti-dog signs springing from neighbourhood flowerbeds. And consider the woman in a townhouse window who appears to capture transgressors on video.
If there's any off-leash liberty for the dogs of Liberty Village, it's stolen.
But it wasn't always like that.
Before Rita Cox Park rolled out its green carpet in 2008, along with a playground and fountain, this tract of land just east of Queen and Dufferin was a veritable dog's breakfast, lunch and even dinner.
"When I moved into the area, it was different," Alex Hess, who has a dog named Taiga, explains. "There were no condos anywhere. That area where all those townhouses are was just a big green empty field. It was a former railway yard. It was literally weeds and dirt and grass."
Today, twin high-rises and row upon row of townhouses draw thousands of new residents into the mix. And, of course, it seems that everyone is entitled to a dog.
"I don't even want to count how many people are in this neighbourhood now. There are so many dogs."
Hess got Taiga, a Husky-Malamute cross, five years ago. And the constraints of his rapidly urbanizing environment became clear.
"It's just not an option for me to not let my dog run around," he says. "He's going to go crazy and it's not good for him. This is probably one of the reasons why dogs do attack people is because they haven't had the opportunity to be socialized with other dogs."
Rita Cox Park would seem the ideal outlet for pent-up canine ambitions. If it wasn't intractably designated an on-leash area.
'You could make it so that you could have your dog off -leash during certain hours," he says. "No one's using that space in winter."
"We have in Toronto a very carefully crafted set of rules around the use of parks by dogs," Gord Perks explains a couple of days after his visit to the park. "That park would not be eligible for a dog off-leash area."
Indeed, the study — drawing from pro-dog groups, not-so-into dog groups, parents and people just looking for a place for humans to stretch their legs — concluded Rita Cox Park was too small to have even a cordoned-off area for unleashed dogs.
"So," Perks concludes. "There's nothing really I can do to provide an amenity for dog owners who want a place for their dogs to run off-leash in that park. It's simply not a policy option available to me."
"I would be betraying everybody that participated in the conversation if I said, 'Oh, well we didn't talk to Alex. He has a slightly different view so we're going to change the rules because he doesn't feel we're being flexible enough in dealing with his needs."
Friction isn't just a Rita Cox Park phenomenon. An intensifying city is always going to intensify the demands made on public spaces.
Which is why there are growing calls for municipalities like Toronto to catch up with the concrete explosion — and earmark more green relief.
"I think actions speak louder than words," explains Robert Wright, a professor at the University of Toronto's Faculty of Architecture, Landscape and Design. "So I don't think the answer lies in legislation or rules but in good urban planning and design, something that has diminished over the last 10 years in Toronto with some noticeable exceptions of course."
The trouble begins when public space falls too far behind urban development. Too many demands on too little space ultimately lead to a collapse.
And what might that collapse look like? A few steps from the park, another "green" space, the Joe Shuster Dog Run, offers a glimpse.
It's a slender, bowling-lane of land, owned by the neighbouring condo development. It's gated, certifiably off-leash — and on most days, it's a cesspool of backed-up drainage, gaping craters and physical hazards.
The run was sold to prospective condo buyers as an amenity — the perfect pitch for the dog-loving demographic.
And here's what becomes of it.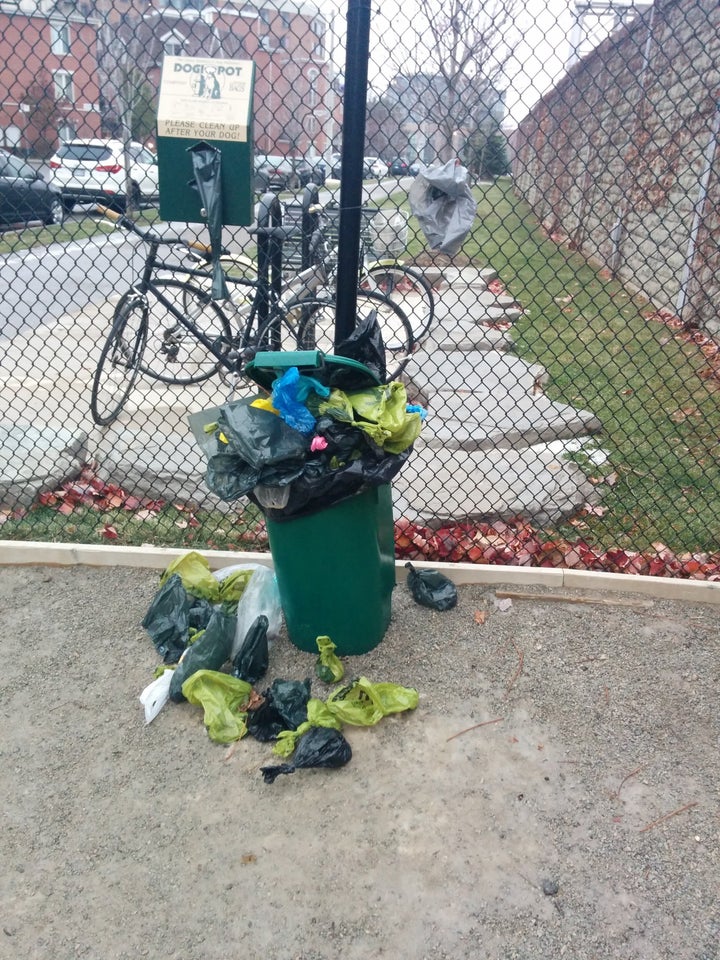 "That has nothing to do with the City," Gord Perks is quick to point out. "We would never design it that way."
Indeed, this dog space was offered as an amenity to prospective townhome buyers. Since then, two towers have gone and use of the run has shot up exponentially. Dogs have one option for exercise -- that is, to run up and down its narrow track, while owners dodge a fecal minefield. The gates are often broken, allowing dogs to frequently go fugitive in fast-moving traffic outside.
Or, as resident — and dog blogger — Verena Schleich bluntly concludes, "I think they'd have a much easier time keeping people out of Rita Cox if the dog run weren't such a shithole."
Fights among dogs — and their owners — paint a damning portrait for townhome dwellers who stare icily from windows overlooking the so-called Joe Shuster Dog Run.
At least they're not in our park.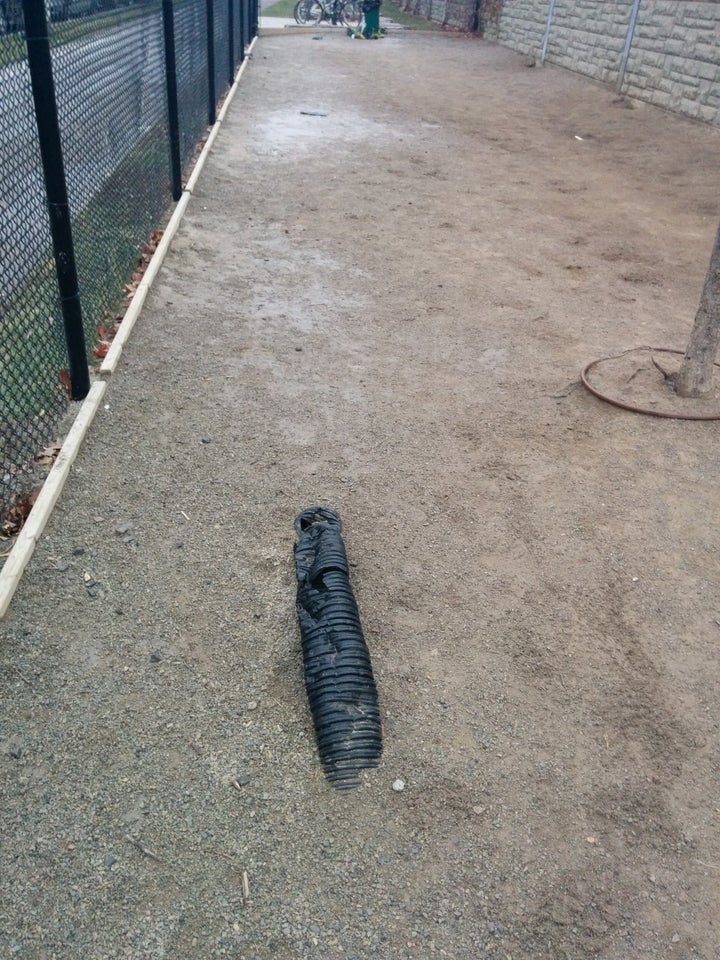 But, of course, the conditions of this privately owned dog space, drive owners straight into the mortified arms of nearby Rita Cox Park
And a vicious cycle spins anew.
"Here's what's going to happen," Perks explains. "If people persist in running their dogs off-leash in Rita Cox, neighbours will get angrier and as they get angrier they will phone police and 3-1-1 more often and that will result in more enforcement activity.
"If people are continually violating one of our by-laws, the enforcement guys find out and enforce. So dog owners are bringing this on themselves."
Moments after Perks and his neighbourhood patrol dispersed from Rita Cox that evening, dogs and their owners got right back to running afoul of those bylaws.
A tiny cloud of a dog came sniffing around. No leash. An owner far behind.
The few straggling dog-owners who hadn't left yet, stared at the newcomer as it sniffed around a skeletal tree. The dog was oblivious to the passion and politics that had been whirring above its freedom-loving head.
It had no idea what penalties his owner risked for that little leash-less romp.