The official website of the Bloc Québécois was hacked Monday morning by an Albanian-based group calling itself the "United Islamic Cyber Force."
At around 9 a.m. ET, visitors to blocquebecois.org were greeted with a message in English making reference to invading "the Arabian Peninsula." The post also contained a link to the group's Facebook fan page.
"The Prophet S.A.W. said, you will invade the Arabian Peninsula and Allah will grant it (to you). Then (you will invade) Persia and Allah will grant it (to you). Then, you will invade Rome and Allah will grant it (to you). Then, you will invade The Dajjal and Allah will grant him (to you)," the message read.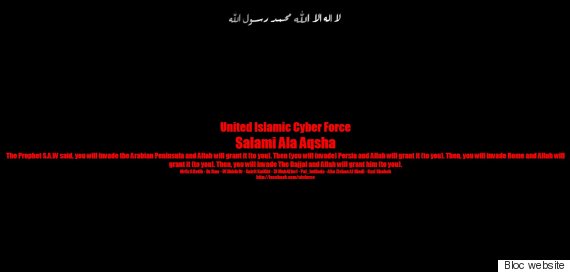 By noon, the message was replaced by one saying the site was "under construction."
Bloc spokesperson Simon Charbonneau told The Huffington Post Canada the party hasn't received any other threats and has alerted the police.
"We are in the process of ensuring that our servers and our data is not compromised," he said.
Several other sites that were hosted by the same server as the Bloc's were also targeted. In an email exchange with The Canadian Press, a group spokesman wrote that the attack was carried out because the separatist party showed a lack of respect toward women wearing the hijab
In October, the Bloc's two MPs voted against joining the U.S.-led combat mission in Iraq. Leader Mario Beaulieu, who does not have a seat in the House of Commons, accused the Conservative government at the time of putting forward an "unidimensional logic that advocates airstrikes over humanitarian aide."
Last week, envelopes containing white powder were sent to the Quebec riding offices of federal cabinet ministers Denis Lebel, Steven Blaney, Christian Paradis, and Maxime Bernier. The envelope sent to Lebel's office reportedly included a warning the Tories would be "annihilated."
But a provincial police spokesperson said Friday that the substance was harmless.
ALSO ON HUFFPOST:
With files from Althia Raj, The Canadian Press