While many people were raving about Givenchy's fall 2015 show (those piercings! The textures! 'Runway magic'!), they failed to realize the underlying issue with the theme.
Dubbed "Chola Victorian" by Givenchy creative director Riccardo Tisci, the Givenchy girl of the season was declared the "boss of the gang." For reference, the word "chola" is said to have an origin in the Aztecan word for "dog, mutt," and was used to describe Mexican immigrants in a derogatory way. It was eventually reclaimed by gangs in the 1960s, and was used to describe young, urban Mexican-American women with a certain style: dark lip liner, gelled hair and baggy flannels.
Tisci took "inspiration" from these women, sending models down the runway with gelled baby hairs, braids, and extravagant facial jewelry, and remixed it with Victorian ensembles, thus resulting in the "Chola Victorian" look.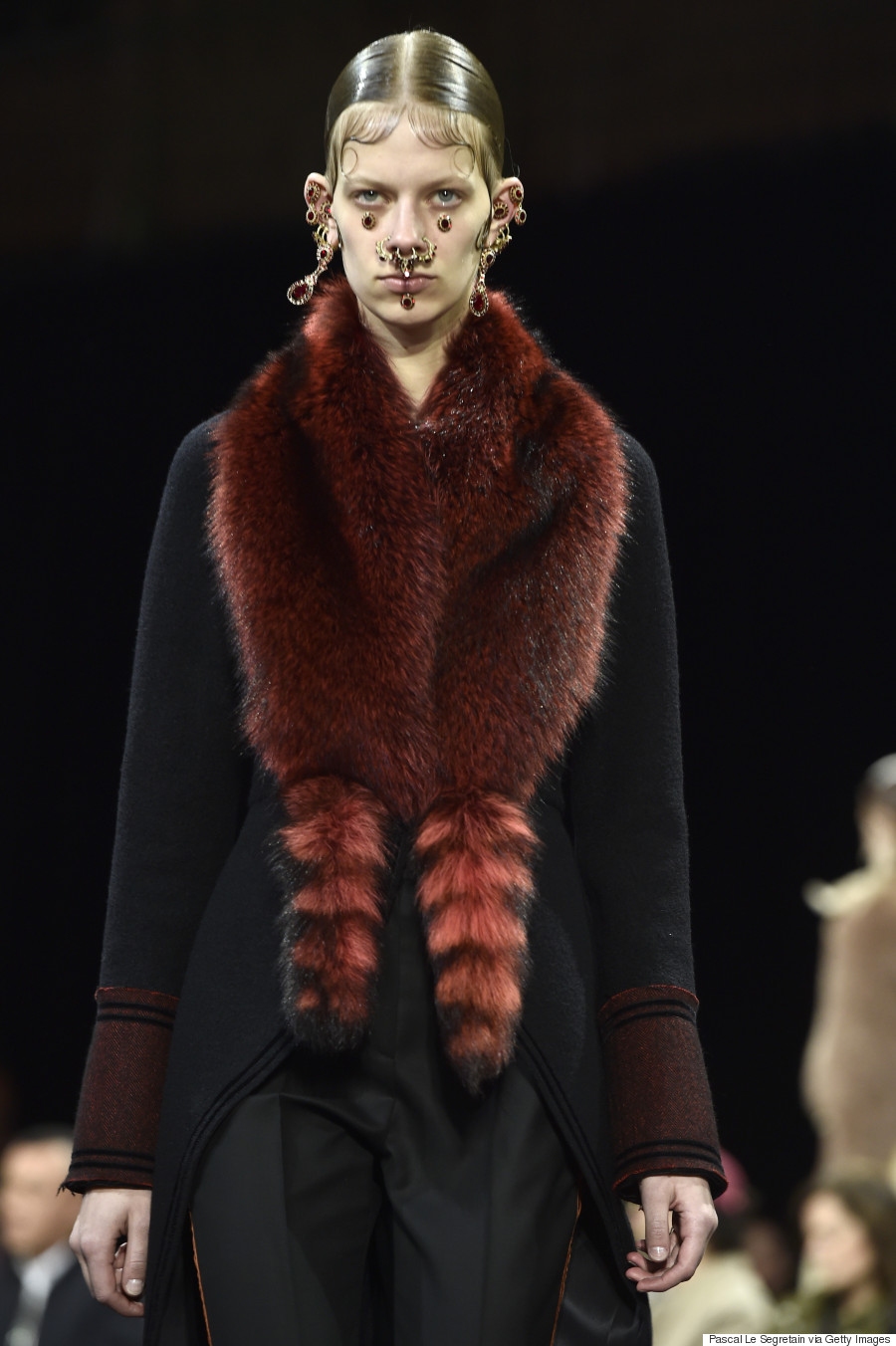 Cultural appropriation isn't anything new in fashion (just look at DSquared2's controversial fall 2015 show dubbed 'DSquaw'), but it's especially problematic when paired with a lack of diversity. Tisci's "inspiration" may not have come from bad intentions, but the models cast in the fall 2015 were predominantly white.
As Refinery29 puts it: "The message this sends, even though it is hopefully inadvertent, is that baby hairs can look 'chic' on white girls, but are still 'hood' on Latina and Black girls."
Twitter was quick to take note:
@DazedMagazine @givenchy "Victorian-Chola girls" but where's the Latinas and black women... having one token model doesn't count.

— katherine white (@1nsp1r3d_0n3) March 9, 2015
Are there any Latin models in the show? How would they feel about being called a chola? Why are all the Instagrams showing white girls?

— Phillip Picardi (@pfpicardi) March 9, 2015
However, Style.com didn't seem phased by the appropriation, writing, "As an Italian, Tisci has always had a thing for Latin archetypes. The California chola girl qualifies."
The big issue here is the influence Givenchy has over the fashion world -- it is the show that inspires countless editorials and magazine pages.
"We will see this exact look -- face jewels, baby hairs, and all -- replicated countless times in advertising campaigns and photo shoots," writes Refinery29's Phillip Picardi. "When it's taken out of the already flawed context of this runway presentation, it will almost undoubtedly be on a white model. The 'interpretation' or 'inspiration,' however good the intention, will be lost, and many women will continue to feel neglected or robbed of their cultural identities."
Artist Jennifer Li summed it up perfectly:
New piece. Black girls are punished and mocked for their originality while others co-opt it. #VogueArticles pic.twitter.com/1xRNRFyr9Z

— Aggressive Asian (@JennLi123) September 14, 2014
Yes, we realize there is a fine line between cultural appropriation and cultural exchange, but isn't it about time designers realize "paying tribute" in this form is exploitation, and not a celebration?
Let us know your thoughts in the comments below, and check out the rest of the show in the gallery:
Follow Huffington Post Canada Style on Pinterest, Facebook and Twitter!