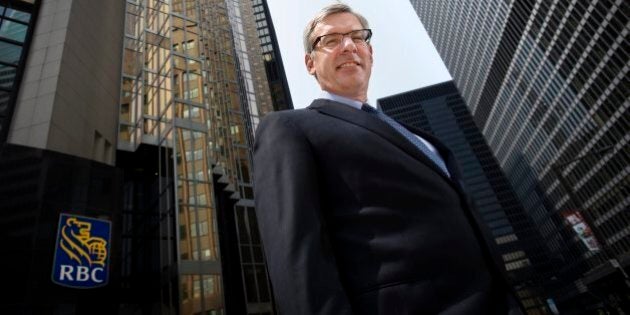 The Royal Bank of Canada is on a "collision course" with companies like Apple and Google over the future of mobile banking, RBC's CEO Dave McKay says.
Payment systems like Apple Pay and Google Wallet are getting in between shoppers and their banks, and banks will not have the same connection to their customers as they do with more direct methods of payment, such as credit cards, McKay told an RBC investor conference in New York, as quoted at the Financial Post.
McKay said he wants a payment system that would place the bank at the top, but acknowledged that picking a fight with Apple — the world's biggest company — and Google is something the bank would rather avoid.
The Canadian Press reported Tuesday that McKay earned $7.5 million during the first year he held the CEO mantle:
TORONTO - Royal Bank of Canada's (TSX:RY) new president and chief executive Dave McKay earned $7.5 million in total direct compensation last year.

McKay's compensation was prorated for each of the three roles he held during the year: group head of personal and commercial banking, president and president and CEO.

His total direct compensation included $995,479 in salary, a short-term incentive award of $1.5 million and mid- and long-term incentives that come to a total of $5 million, according to RBC's management proxy circular.

McKay's pension also saw a significant improvement after his appointment to the role of president and CEO. His annual pension will max out at $1.25 million at age 60. The value of the improvement was worth about $5.2 million in 2014.

Meanwhile, Gordon Nixon earned $9.2 million for the nine months he served as the bank's chief executive in 2014 prior to his retirement.

The bank said McKay's target direct compensation was set at 11 per cent below Nixon's compensation.

The bank said the compensation targets set for McKay reflect the compensation committee's decision to shift more towards performance-based pay instead of fixed compensation.

"We believe the compensation awarded to Mr. Nixon and Mr. McKay this year appropriately reflects their leadership in driving our record performance and our ability to deliver sustainable growth and industry-leading returns," the bank said in a statement Tuesday.