But along with the trendy pieces, it's also a good time to re-introduce a few basics into our closets. These pieces will help you seamlessly transition into the warmer months, and will prove useful year after year.
We've narrowed down the five absolute must-have spring clothes for 2015, with a few examples of each in the slideshow below. Just take a look for yourself. Happy shopping!
(Story continues below slideshow)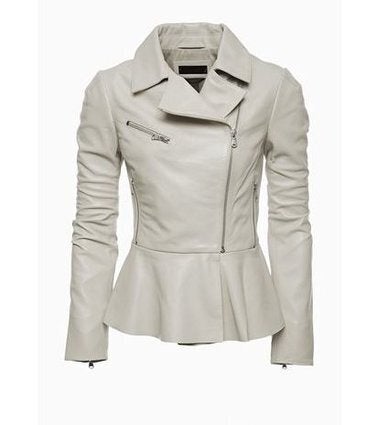 Yes, you can definitely wear leather once it gets warmer! Many brands have started introducing the luxe fabric into their spring lines in lighter colours, such as pastel blues and pinks, to lighten things up a little. But the classic black version still stands, too. A leather (or faux leather) jacket is the perfect staple for layering over anything from a t-shirt and jeans to a flirty dress. You'll definitely want to add one to your spring wardrobe.
Denim was a huge trend on the spring runways this year, so we'll no doubt be seeing it everywhere. Our favourite incarnations of the trend is the jean jacket. Much like its leather counterpart, the denim jacket is extremely versatile. Throw it on over your white tee and black jeans for a laid back look or dress down a flirty frock by layering it on over top.
Springtime means we can finally ditch our thick tights and set our legs free! And what better way to do that than with a super cute spring dress? When it comes to fun frocks, the possibilities are endless -- you can go with bright colours, bold prints, or keep it simple with a classic LBD. One of our favourite styles for the transitional season is the midi dress -- it's great for the office (especially with a blazer), thanks to its modest length, but can work for nighttime, if paired with a great pair of heels and some killer accessories.
A great pair of jeans is a necessity all year round, but for spring, we see them in so many new colours and patterns we can't help but fall in love all over again. So, instead of always sticking to your dark denim (which is fine), why not try something new, like white, or printed jeans? Or, if you're extra adventurous, you could opt for a little bit (or a lot) of embellishment, a la Dolce & Gabbana.
A button-down shirt can be worn virtually anywhere, which makes it a wardrobe necessity. Perfect with a skirt for a day at work or with dark jeans and heels for a night out with friends, the classic collared shirt can easily adapt. And, come spring, we see these tops popping up in all sorts of light fabrics, like sheer chiffon and easy linens, bright colours, and bold prints. You can never have too many collared shirts, in our opinion.