It may have just been the year of the butt, but we're not ready to let go of our booty appreciation just yet.
A fit butt is also a strong butt, which is sculpted through various exercises of the core, glutes and legs. Toronto fitness expert and owner of Brass Vixens Pole Dancing & Fitness Studio Shannon Crane says to master a good butt, you should be working out your legs and glutes at least three times a week.
"Avoid over-training. It may seem like a good idea to do butt moves every single day to get results, but the body, mainly muscle, needs time to repair and grow," she says.
If going to the gym or finding time to dedicate to your butt doesn't seem to work with your schedule, Crane says you can also fit in butt exercises with your everyday routine like taking the stairs or doing squats while you're at work, texting or watching TV.
And getting up off your butt may be a good thing in the long run. As we already know, sitting at our desks all day is dangerous to our overall health, but Crane says you can engage your butt passively too.
"Do under-the-radar, kegel-inspired butt crunches while you sit — nobody will notice." If this is too risky, try squeezing your glutes the next time you have to hit the printer at the office.
Oh, and if you are working out your bum in the next little while, make sure you have the right tunes.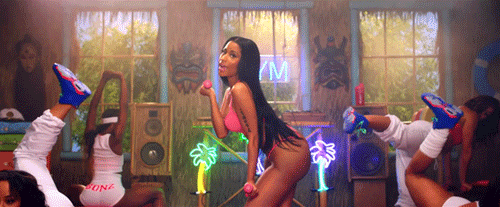 Check out all four moves, as well as other butt and thigh exercises in the gallery below.