It's a problem that likely plagues hundreds of Tim Horton's location across the country each day, but RCMP in Fort McMurray are finally putting an end to it.
Drivers in the oil capital of Alberta now face a $172 fine and demerit points if they stop on the road and wait in line to make the right hand turn into the Timmie's drive-thru off Thickwood Boulevard, reports the Edmonton Sun.
The lineup is causing a dangerous traffic situation, and the chance of crashes has increased because people refuse to park and go into the store for their java fix.
"Because it's illegal to stop there, (they have) to either find parking in the Tim Hortons parking lot or they're going to have to find parking on the side road to then use the establishment, because it is a traffic hazard and it can cause accidents," Const. Ashley Quallie told Fort McMurray Today.
Police have even gone so far as to erect "no stopping" signs to remind drivers that lining up on the busy road is against the law.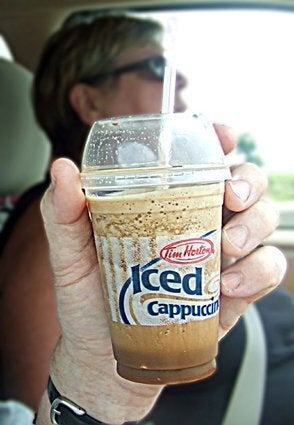 20 Secret Tim Hortons Menu Items