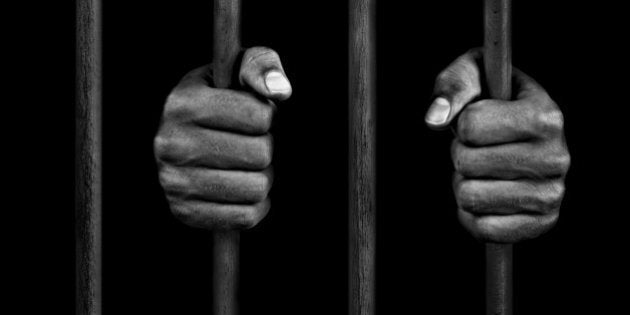 Vomiting, diarrhea and malnourishment are blamed on prison food in complaints launched by several B.C. inmates after the government cut $6.4 million for Corrections Canada's grocery budget.
"I shake a lot because of malnutrition," says Jean-Paul Aubee, an inmate at Mission Institution who has served 14 years of a life sentence for murder.
Aubee serves as a prisoner's advocate at the medium security prison in Mission, B.C., where he says inmates have said they are getting sick because of a new "cook-chill" program implemented in November as a cost-saving measure.
"The food is causing people to experience diarrhea, nausea, vomiting. I have experienced this myself many times," says Aubee, who argues the quality, quantity and preparation of Canadian prison food has deteriorated.
In November, Corrections Canada closed full kitchens at four B.C. prisons, including Mission. The government has defended the program, saying meals are approved by a dietitian and that the program will save taxpayers money.
All main courses for these four facilities are prepared at Matsqui Institution's kitchen, and then frozen, trucked and reheated in prep kitchens at other nearby facilities. It's part of a national "cook-chill food preservation system" to modernize prison food preparation and cut costs.
Aubee says prisoners do not expect prime rib, but he thinks the Conservative government's cutbacks have gone too far.
"There is a chicken stew that they make, and the chicken smells rotten, you can't even eat it," says Aubee, who does not believe the new menu contains enough protein for adult men.
The correctional service has a policy that allows deductions from inmate income to help cover food and board costs.
Food shortages, heating problems
There were several complaints about vomiting and food-borne illness at Kent Institution in Agassiz when the program began in November.
"The food-cart heaters were not working, and we had reports of prisoners at Kent getting sick from eating cold food," says Jennifer Metcalfe, a lawyer with Prison Legal services in Burnaby.
"Prisoners on halal diets have refused to eat the food because the quality is so poor. Some prisoners got sick from eating fish," according to Metcalfe, who says inmates report that food is still being served cold.
CBC has obtained several internal complaints filed by prisoners who say they went hungry after the kitchen repeatedly ran out of main course items such as corn, carrots, salad, potatoes and rice before all units have had a turn to eat.
"The kitchen needs to make enough for everyone," writes an inmate in one complaint from Mission Institution.
One inmate complained that when he found a worm in his canned peaches kitchen staff told him, "That is extra protein. Just move it out. It's fine."
But the inmate wrote that "to continue this deplorable cycle is refusing to provide the necessities of life."
In the prison newsletter, one inmate describes "disguised mystery meat" as "terrible, unfair and especially gross."
"I believe it's a fact that what they are giving us is not adequate and does not in any way meet Canada's Food Guide regulations," says Aubee.
Menu approved by dietitian
Corrections Canada insists "serving sizes are in accordance with Canada's Food Guide" and the menu is approved by a registered dietitian.
It says the new cooking system will save taxpayers $3.259 million this year and $3.185 million next year.
"Prisons are meant to correct criminal behaviour, not serve as a vacation home. We are confident that CSC provides meals that meet appropriate nutrition standards," said Jeremy Laurin, spokesman for Public Safety Minister Steven Blaney.
Two inmates who complained to prison management about food quality say they were told by prison officials that food costs are capped at $4.91 per inmate per day.
Corrections Canada says it costs $12 a day to buy, prepare and deliver food for each inmate.
Inmates not 'being picky'
Howard Sapers, Canada's independent prison investigator, says his office has been looking into the implementation of the new program because "food is so essential to the safe and proper operation of a prison."
He says his office has heard from inmates upset about food quality across Canada. Sapers says his job is to ensure budget cuts don't violate the law or the government's obligation to provide adequate food.
"Prison kitchens are not restaurants and no one expects them to be. This isn't a matter of inmates being picky or choosy. They have no choice. They rely on CSC making sure those three conditions: quantity, quality and nutritional value have been looked after."
Sapers says that to date officials have been quick to fix food safety problems.
Aubee says the lack of quality food is raising tensions and he fears that could even lead to violence.
"To the average citizen out there this may sound trivial, but what people don't get a grasp on is that all of this contributes to big giant chips on shoulders of inmates who are going to be released into the community," Aubee says.
If you have more information on this or related stories, email investigate@cbc.ca