Those poor Toronto Maple Leafs just can't catch a break, even when they're not wearing their skates.
There is no escape from the endless mockery and heartless cruelty of hockey fans, especially from the Habs-supporting folks in Montreal. The Maple Leafs are making themselves easy targets as they tumble down even further in the NHL standings (as of this article, they sit in the second-lowest spot in the wild card rankings, just above the lowly Sabres).
The latest joke against the lacklustre Leafs has bars across Canada offering free beer -- but only during any Maple Leafs playoff games. Of course, with their recent performance and ranking position, that is most definitely not going to happen any time soon.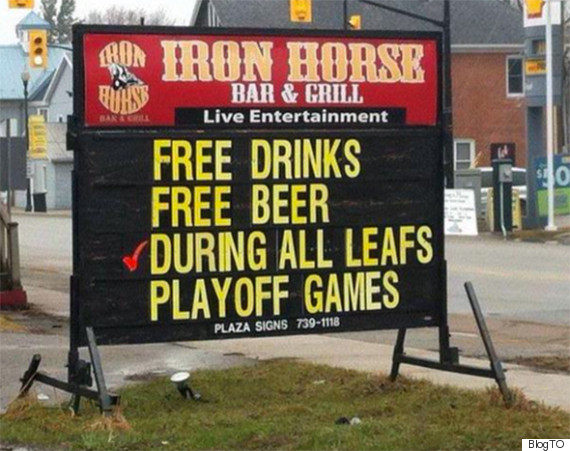 Recently, the Leafs were brutally burned by a teenage fan on Twitter.
Even diehard fans are giving up:
So I just got the News that the #TorontoMapleLeafs lost 6-1 against #StLouisBlues Wow!! @MapleLeafs You Guys gotta figure something out ASAP

— kareemslick (@kareemslick) March 9, 2015
Whole #TorontoMapleLeafs team is on sale. Grab someone. RT @NHL Here are the top 15 targets: http://t.co/Wio9qW34hU pic.twitter.com/c5EJmM18l8

— Kārlis Malkavs (@KarlisMalkavs) February 23, 2015
Also on HuffPost