Two anti-abortion groups are launching what they call the "biggest pro-life campaign in the history of Canada," targeting Liberal Leader Justin Trudeau.
Last May, Trudeau announced that no new anti-abortion candidates would be permitted to run for the party in the next federal election, scheduled for October. Incumbent Liberal MPs opposed to abortion can re-offer, but will be required to vote in favour of a woman's right to choose if the matter comes before the House of Commons.
Trudeau's controversial move was lauded by those who saw it as a step forward for women's rights and criticized by those who said it ran counter to the party's traditional "big tent" approach.
In the past, the Campaign Life Coalition (CLC) has urged members to support or reject candidates based on their abortion stance, but not whole political parties. However, the group is now opposing all federal Liberals.
"For the first time in Canadian history, we have the leader of the Liberal Party of Canada forcing his entire caucus to hold his personal views on abortion," said spokeswoman Alissa Golob in a media release.
"Not only that, but Justin Trudeau is ignoring and discriminating against the majority of Canadians who support abortion restrictions, by proclaiming they are not welcome to run for the Liberal Party of Canada."
Jonathon Van Maren of the Canadian Centre for Bio-Ethical Reform said in a statement that he hopes the movement will revitalize "pro-lifers."
"Around 100,000 pre-born human beings are decapitated, dismembered, and disembowelled each year in our country," he said. "We've found that when we expose the injustice of abortion as well as a politician's stance on the issue, people change their position."
Visitors to the campaign's website are immediately asked if they are "pro-life" or "pro-choice."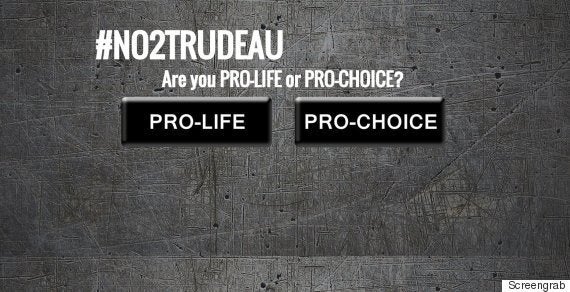 Those who select "pro-choice" are taken to a page with some graphic images and text making the case that "abortion is a human rights violation."
Those who select "pro-life" are taken to a page inviting them to join the campaign by adding their name and contact information.
The site also contains a promotional video that opens with other controversial Trudeau moments that have nothing to do with abortion.
Though NDP Leader Thomas Mulcair has made it clear that no anti-abortion candidates can run for his party either, the campaign is entirely focused on Trudeau.
But it appears Liberals aren't worried.
Gerald Butts, Trudeau's top adviser, took to Twitter to share the group's press release Thursday.
In a much-discussed speech on the topic of liberty this week in Toronto, Trudeau spoke about his pro-choice pledge, saying he believed "the Liberal Party ought to be a liberal party."
He addressed head-on the criticism he received after barring anti-abortion Liberals from running for his party.
"Their argument went like this: Forcing a Liberal MP to vote against their conscience on a matter of morality is an unjust restriction of their liberty. It sounds like a reasonable argument," he said.
"However, it is easily dismissed when you realize it is based on a value judgment about whose freedom is more important: that of an MP elected as a Liberal, or that of Canadian women.
"Let's be clear on this. For Liberals, the right of a woman to control her body is more important than the right of a legislator to restrict her freedom with their vote. MPs who disagree with that have other choices. They can sit as independents, or as Conservatives."
Advocacy group The National Citizens Coalition (NCC), which bills itself as a non-partisan organization dedicated to liberty and free-market principles, has also launched a "Say No To Trudeau" campaign. Prime Minister Stephen Harper served as president of the group from 1998 to 2002.
The NCC released a radio ad in November pushing the narrative that the Liberal leader is too inexperienced to become prime minister.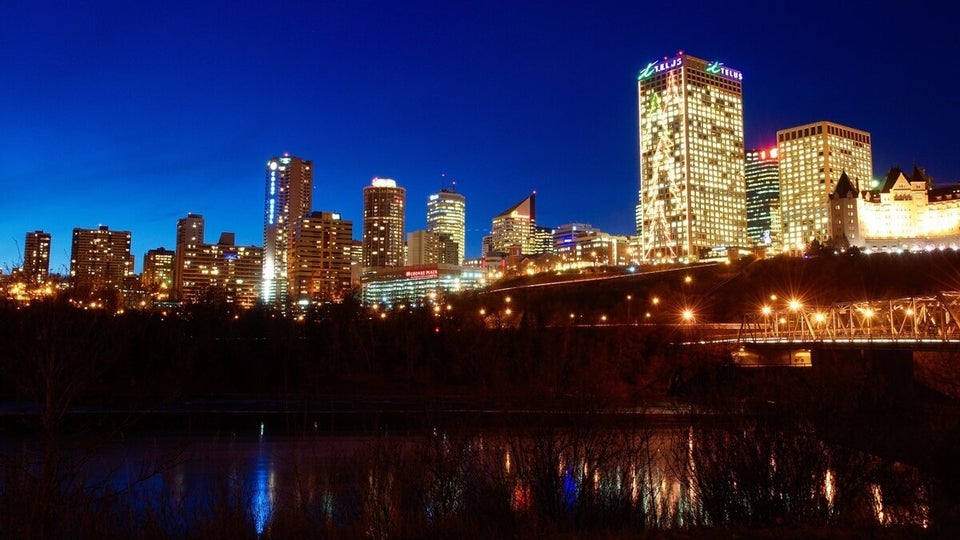 Best And Worst Canadian Cities For Women