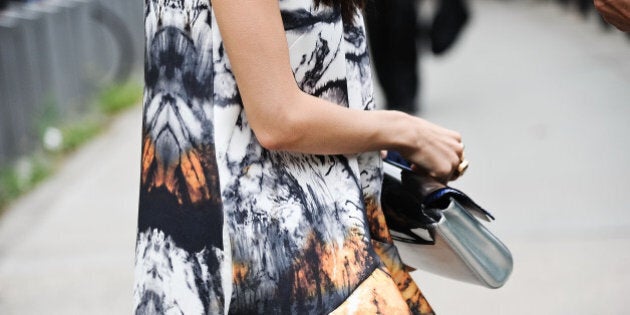 We get it, everyone: flowers happen in the spring. (You can also buy them during autumn and in the winter but that's neither here nor there.) This is why, every spring, we're barraged by enough flowers, florals, flora, and fauna to be a middle school Earth Day project.
And to that we say, no more. (Well, us and more than a few designers.) This season, we've been given alternatives; pieces that break from the mold and offer a reprieve from petals, stems, and everyone's favourite doodle. This year, prints promise they can be more.
Here are a few of our favourites.
Story continues below slideshow: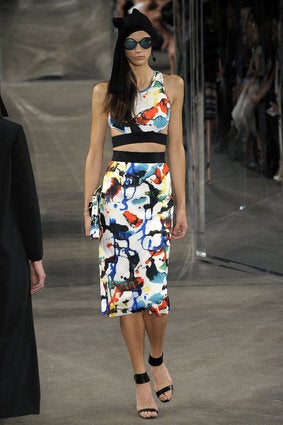 That's right: as if they've been pulled from an art teacher's wardrobe, paint splattered pieces were seen in collections by Donna Karan, Jasper Conran and Milly, offering enough colour for the season, but without the floral cliches. They're also appropriately nostalgic: since most of us spent the nineties covered in classroom paint ourselves, it makes sense to pay homage to the nineties in pieces that one-up our iconic looks.
According to "The Little Mermaid" and that one episode of "The Simpsons," we all want to live under the sea. Fortunately, designers like Stella McCartney have taken those pop culture tokens to heart and created wearable homages to underwater life. (While Stella Jean's collection, on the other hand, took the print to new levels.) After all, if you thought Ariel was going to parade around town in only a seashell bra, you've got another thing coming.
The loophole for florals is this: if it's paired with all other prints, ever, then you are technically not limiting yourself to a flower-based life. Enter: Maison Martin Margiela (who balanced a retro floral print with metallics), and Alice + Olivia, who paired the print with a piece that what simple and geometric. (See? There are ways around the system.)
And speaking of which, think clean lines and symmetry, as evidenced by collections by Mugler, Valentino, Tory Burch, and Thakoon. Shapes on shapes on shapes on shapes -- and usually super flattering, interesting, and timeless. (Because of course! It's hip to be square. Or at least wear some.)
A tale as old as time: wherever clothes are found, polka dots will also be. At least, that's what we can take away from Ralph Lauren's spring/summer 2015 offerings (shout-out to the floor-length polka dot skirt), Rebecca Minkoff's '70s-inspired dress, and Sportmax's pant suit. A print not just for vintage-inspired pieces anymore, it's officially possible to wear them in an adult way (or at the very least, beyond a cute A-line dress modeled from the 1950s).
8. Leopard/Cheetah/Cat Print
The Internet loves cats, so it was only a matter of time before we began embracing the wonders of said superior animals (yeah, we said it), and applying their aesthetic to our wardrobes in an animal-friendly way. Enter: pieces by Saint Laurent, Elisabetta Franchi, and Lino Villaventura, who adapted cat print in a modern way, without paying too much tribute to Peggy Bundy. (Even though, for the record, dressing like her is always alright.)
But maybe you hate cuddly things. (Yikes.) If so, feast your eyes on these shredded pants by Ashish, and House of Holland, who broke from the traditional reptilian palette (safe neutrals) and infused them with colour and a metallic sheen. Somewhere, Cookie from "Empire" is buying all of it.
And now it's time for us to check out. (Ha!) But seriously: the fifties print is back in full force thanks to Diane Von Furstenberg, Issey Miyake (who toned them down with bursts of colour), and Gareth Pugh, who you might want to save for a fancy night out. (Or not: you do you.) The best part? If you're really attached to florals, you can pair them with any of the above. Now that would be groundbreaking.