Stop the discrimination against fruits and vegetables — and save yourself some cash in the process.
On Thursday, Real Canadian Superstore and no frills (both supermarkets owned by Loblaws) announced they will start selling a new line called Naturally Imperfect. The brand will consist of fruits and vegetables that are smaller, have blemishes or are misshapen, and will be sold for 30 per cent less than the usual price.
"We often focus too much on the look of produce rather than the taste," said Ian Gordon, senior vice president, Loblaw Brands, Loblaw Companies Limited in a press release. "Once you peel or cut an apple you can't tell it once had a blemish or was misshapen."
We're going to guess they were inspired by a similar campaign launched in France last year, which saw "inglorious" fruits and vegetables being sold by the country's third-largest grocer for 30 per cent off. In this case, of course, we say bring on the copycats.
And considering the whole idea behind this line is not judging books by their covers, so to speak, the packaging on these products is particularly refreshing. Staying in line with no frills' minimalist design, the labels' friendly appearance might just convince you to choose them over the other guys.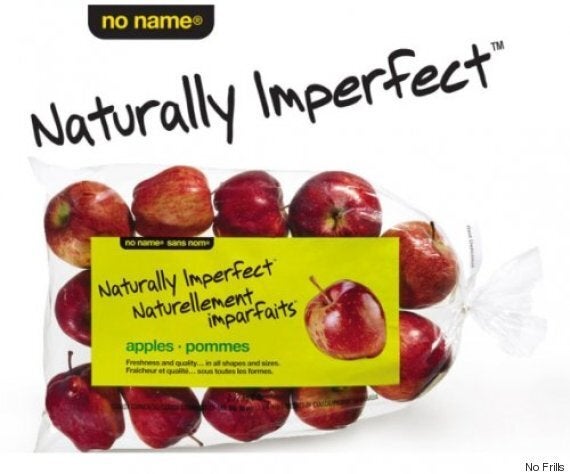 Apples and potatoes will be the first items rolled out for the line, available right now.