Bud Light found itself pinched on social media on Saint Patrick's Day after users accused the company of making light of sexual assault.
The beer maker issued the following tweet on Tuesday morning, though it was later deleted from their account: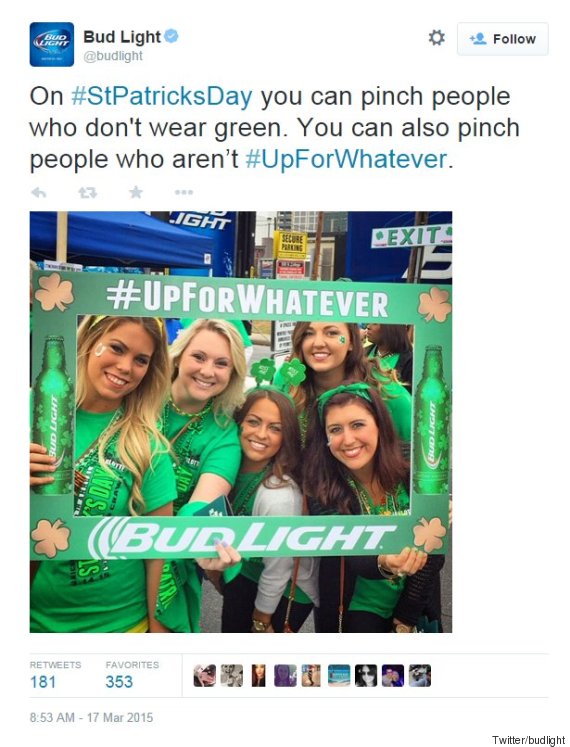 The hashtag references a marketing slogan the company has used to promote itself on social media, through a series of tweets and videos.
Numerous Twitter users slammed the post, and its use of #UpForWhatever in this context, accusing Budweiser of promoting sexual assault.
Hi @budlight. Does being #UpForWhatever include up for arrest on sexual assault charges? pic.twitter.com/llLDBWFFtu

— Lauren Dobson-Hughes (@ldobsonhughes) March 17, 2015
ummmm so did @budlight completely miss the memo on sexual assault? Cause that's disgusting.

— Stephanie Pettigrew (@steph_pettigrew) March 17, 2015
Quick shout out to @budlight for promoting sexual assault

— Ryan (@RyanInMiami) March 17, 2015
Bud Light: Just Go Ahead And Touch Women Without Their Consent You're Irish!

— Bruce Arthur (@bruce_arthur) March 17, 2015
Others created mock-ups of the original tweet.
@BenTrawlins @budlight #UpForWhatever pic.twitter.com/Upsbi8F3Lq

— HOTDOGBOY (@brians_neck) March 17, 2015
Hey @budlight, are you #UpForWhatever? pic.twitter.com/RJq9jy1uYv

— rich homie quan (@rich_roberts) March 17, 2015
@Pile_of_Derp @budlight #SAE is #UpForWhatever pic.twitter.com/fzKbCiLe4g

— Paul Swinebaum (@AugustusThe3rd) March 17, 2015
In response to the backlash, Bud Light spokesman Nick Kelly sent a statement to Business Insider saying, "We understand that some people misunderstood our St. Patrick's Day post and we want to apologize to everyone who was offended. Our intention was only to be playful and celebrate the holiday."
Like Us On Facebook

Follow Us On Twitter

ALSO ON HUFFPOST: