SURREY, B.C. - Two men have been charged for street racing after a Lamborghini was destroyed in a crash in Surrey, B.C.
RCMP say 27-year-old Adam Shtay of Edmonton was driving the high-end vehicle that went through a chain-link fence after speeding on a highway.
Sgt. Dale Carr says Shtay was racing against 31-year-old Surrey resident Joshua Dally, who was behind the wheel of a 2013 Dodge Viper last Dec. 22.
He says the vehicles were travelling at speeds of up to 157 kilometres an hour.
Carr says police arrived as firefighters were extinguishing a fire from the Lamborghini and that Shtay and other occupants of his vehicle were standing nearby talking to the driver and passengers from the Viper.
Carr says that if the men are convicted police will try to seize the vehicles and that the 2007 Lamborghini Murcielago in particular will still be valuable for its parts.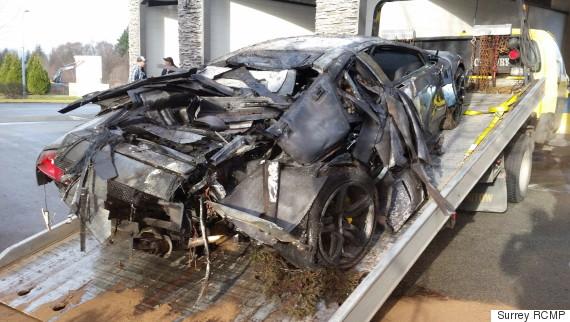 Also on HuffPost