PTBO
Odin is a 13-year-old boy. He has Asperger's, struggles with making friends, and is bullied. Odin is turning 13 today (March 20th). He put out birthday party invites, and not one kid RSVPed.
So now his mom, Melissa, is taking him bowling instead, and hoping guests will show up to wish him a special day at this open bowling event at Lakeview Bowl in Peterborough tonight.
Melissa also wants people to text him birthday wishes to make him feel awesome. (See the number in the screengrab below.)
So let's give Odin a terrific birthday. Text him birthday wishes, and drop by Lakeview Bowl if you can.
Odin, happy birthday dude! You have the best mom in the world. See everything she's doing for him today in the screengrab below...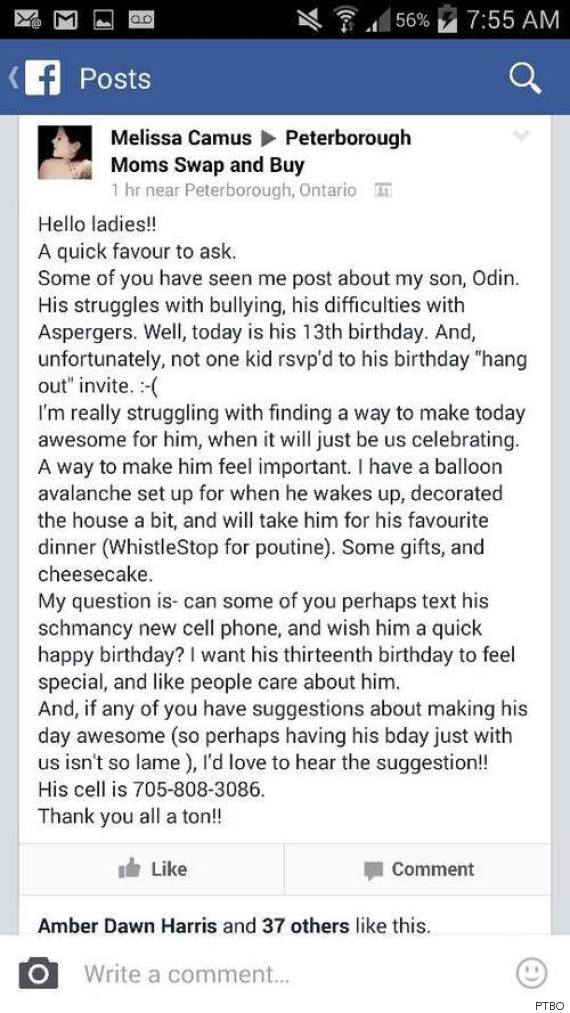 Visit PTBOCanada.com for news on all things Peterborough. Follow us on Twitter, Pinterest and Instagram. Like them on Facebook.
As you've probably seen, #odinbirthday has gone massively viral, and we couldn't be happier. Here's some of the best birthday wishes for Odin we've seen so far:
Happy 13th Birthday to our new friend Odin! Help him celebrate #Peterborough: http://t.co/5UqIVQBUmx #OdinBirthday pic.twitter.com/PJpdB9mBpH

— Toronto Raptors (@Raptors) March 20, 2015
Happy 13th Odin! Have the best day ever. #OdinBirthday #stopbullying @Ptbo_Canada pic.twitter.com/fUFDKUymLw

— WilkinsCaricatures (@wlkscaricatures) March 20, 2015
Wishing Odin a very happy 13th birthday today! Hope you have a great day. Bonne fête! #OdinBirthday

— Justin Trudeau, MP (@JustinTrudeau) March 20, 2015
Happy Birthday, Odin!

— Elijah Wood (@woodelijah) March 20, 2015
Hey hey! Happy birthday Odin! There's a party tonight Peterborough! Go say hello at Lakeview Bowl http://t.co/51xSnutuxj #odinbirthday

— Stroumboulopoulos (@strombo) March 20, 2015
Happy birthday to Odin in @Ptbo_Canada from a friend in #Edmonton! Hope u like this #StarWars card! 😀 #odinbirthday pic.twitter.com/q0wzAfVsbn

— Chandra (@canadachandra) March 20, 2015
@Ptbo_Canada Happy 13th Birthday Odin! Love, #WonderWoman and #Batman #odinbirthday pic.twitter.com/fF83qbGF2V

— Ashley Mary Nunes (@Girl1der) March 20, 2015
A big happy 13th birthday Odin! Wish I could be there! "@Ptbo_Canada #odinbirthday

— Jonathan Scott (@MrSilverScott) March 20, 2015
ALSO ON HUFFPOST