Another day, another American Apparel controversy.
The American retail chain is under fire yet again (seriously, they should just change their name to "Controversial Apparel") after a casting call that asked for "real models" not "Instagram hoes" was leaked online.
Animal New York shared the e-mail, which was sent by PhotoGenics Media, on their site Monday morning. It reads as follows:
***COMPANY IS GOING THROUGH A REBRANDING IMAGE SO WILL BE SHOOTING MODELS MOVING FORWARD. REAL MODELS. NOT INSTAGRAM HOES OR THOTS.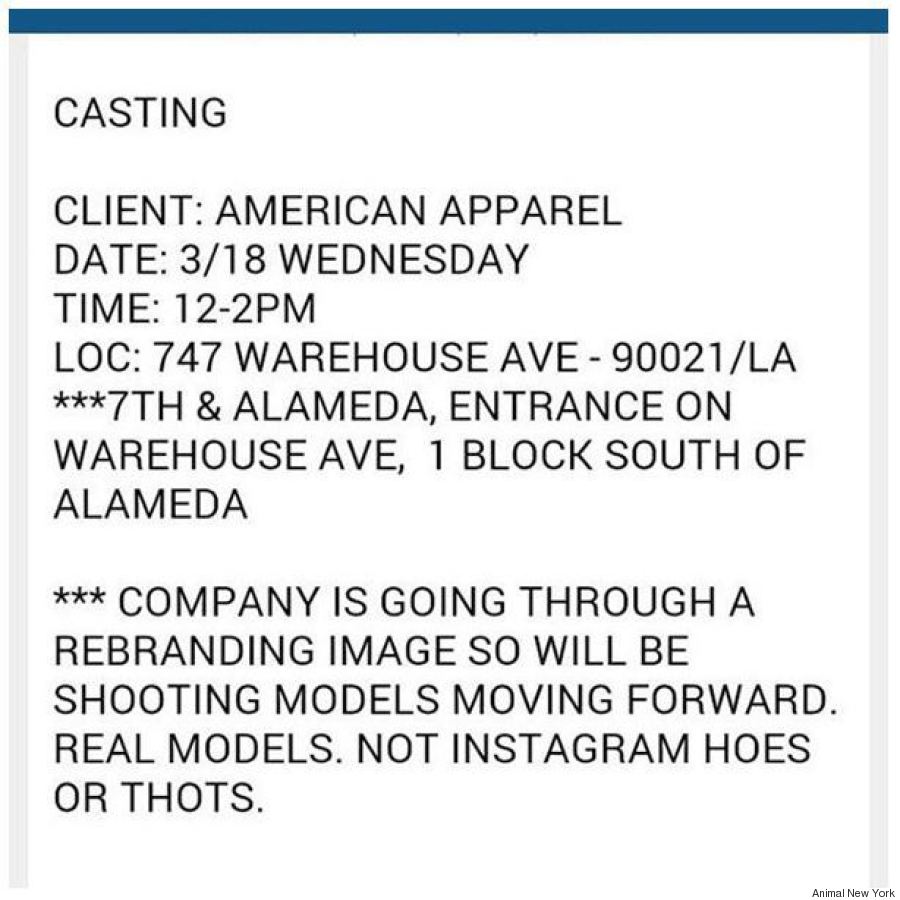 (And just to clarify, "THOT" means "That hoe over there.")
The e-mail was sent by a man named Phira Luon, agency director of PhotoGenics. As reported to Animal, Luon says that he takes full responsibility for the e-mail.
"The comment made at the end was made in jest with models whom i [sic] have a personal relationship with and did not reflect the views, or directives by the client. i [sic] apologize to all those who were offended or affected by my comments, as it was not my intention," he explains.
This casting call controversy comes after the brand's new CEO, Paula Schneider, vowed to take AA in a less sexual direction. But, in the true fashion of the brand, not much has changed. Just last week, they were in hot water after an ad was banned in the U.K. for "sexualizing a child."
However, according to Complex, the person behind the leak has confirmed that Cynthia Erland is behind the company's rebranding efforts. Erland apparently wants to move away from the authentic individuals the brand normally uses in favour of models who "look more Eastern European or Russian."
Whether or not the company will actually change its ways is tough to say, but at this point, it seems like controversy is their best campaign.
What do you think of the brands latest blunder? Let us know in the comments below!
Follow Huffington Post Canada Style on Pinterest, Facebook and Twitter!
Also on HuffPost