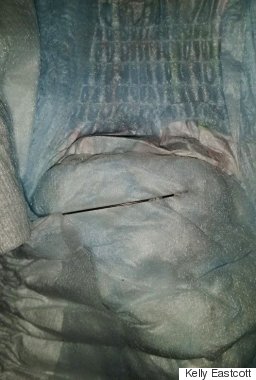 A B.C. mother was moments away from putting a fresh diaper on her daughter when she found a large sewing needle embedded inside it.
"I was about to give it a little stretch when I noticed it wouldn't open all the way," Kelly Eastcott said in an email to The Huffington Post B.C. "I had to do a double take — I was obviously not expecting to see a metal object."
Eastcott, who lives in Port Coquitlam, quickly snapped a photo and posted it to Huggies' Facebook page on Wednesday.
She said a Huggies' representative responded quickly, asking her to call their customer care line, but Eastcott hasn't been able to reach them yet.
UPDATE - Mar. 26, 2015: Eastcott said she has reached a Huggies' representative who was "very apologetic and genuine." The company said it will investigate the incident and will send Eastcott a debit card to replace a box of diapers, no matter the brand.
She posted a second photo after she pulled the needle out of the diaper, and it appears to show a pink thread attached to the needle.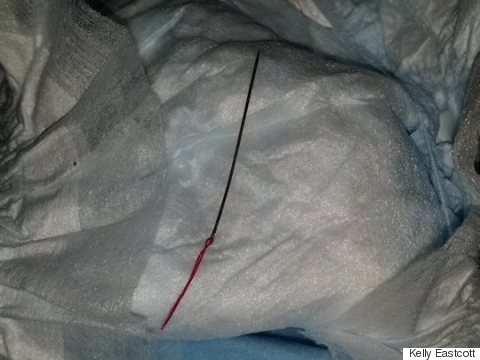 "It's scary. Why is there a sewing needle anywhere near the production of said diapers? What if I had put her in it?" said Eastcott, referring to 21-month-old Klaire.
"Best case scenario, she whines because she's uncomfortable. Worst case scenario, she gets poked."
Like Us On Facebook

Follow Us On Twitter
ALSO ON HUFFPOST: