The internet imploded yesterday when One Direction member Zayn Mailk announced he was leaving the quintet.
Millions of tweets about Malik and One Direction flooded Twitter, including this hilarious interaction between the Toronto District School Board and a student (we're assuming):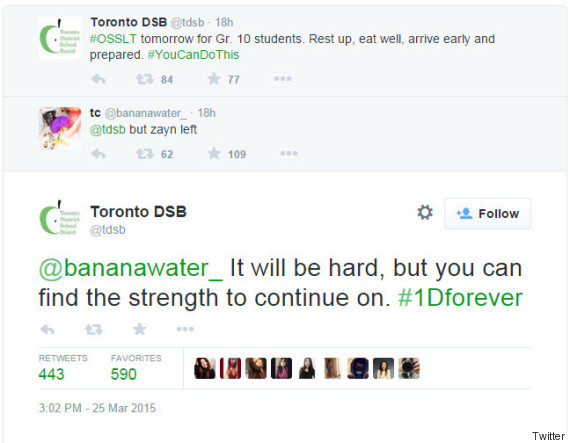 It's great to see that educational institutions in this country have a sense of humour, at least. Here are a selection of some of the more intense fan reactions to Zayn Malik's departure.
Thought I would wake up and it would all be just a dream #ZaynPain https://t.co/AbQyQyzTCa

— Nina (@ninnyninz) March 26, 2015
SHES CRYING BECAUSE ZAYN LEFT OHMYGODSKJDD pic.twitter.com/XlqaMKRlHU

— zalya (@haramnormani) March 25, 2015
ZAYN COME BACK IN CRYING pic.twitter.com/jKr5iBr3iw

— ZAYN STAY♚ (@OnceInALouTime) March 25, 2015
Crying bc zayn quit 1D @CieraLindsey97 pic.twitter.com/Tfo7jR9gRL

— Wim (@wimberly_burch) March 25, 2015
Told my 12 year cousin that zayn quit one direction 😂 pic.twitter.com/Jqas1Kp6pq

— Samar Shahin (@samar_shahin) March 25, 2015
Also on HuffPost