A legal battle to prevent Canadians abroad from voting in elections has cost the federal government $1.3 million so far, CBC News has learned.
The figures are revealed in an answer to a written question from Liberal MP and democratic reform critic Scott Simms.
The government also confirms in its answer that it has paid $10,000 in legal fees for the respondents in the case.
A decision by the Ontario Superior Court last spring said preventing Canadian citizens who've been living abroad for more than five years from voting was unconstitutional.
The government argued at the time that it was important to limit voting to citizens who resided in the country to ensure they had a connection with the country's affairs.
Government 'not persuasive'
Ontario Supreme Court Justice Michael Penny wrote, "The [government] essentially argues that allowing non-residents to vote is unfair to resident Canadians because resident Canadians live here and are, on a day-to-day basis, subject to Canada's laws and live with the consequences of Parliament's decisions."
Penny found the government's argument was not "persuasive."
Simms said the government's pricey challenge of the ruling is "bizarre" given there is no evidence of widespread abuse.
"Citizenship is not something you check out of when you leave," says Simms.
Appeal may cost even more
The legal challenge was started by two Canadians living in the United States who said they had no opportunity for employment in this country, but still wanted the chance to vote while living abroad.
The case is awaiting a decision at the Ontario Court of Appeal, meaning more legal costs may come.
The plaintiffs' lawyer, Shaun O'Brien, said she is "disappointed the government is choosing to defend this policy."
The government is also moving to tighten the rules for Canadians who want to vote while overseas.
Legislation currently at second reading proposes to require Canadians living abroad to provide proof of citizenship as well as their most recent Canadian address in order to receive a ballot.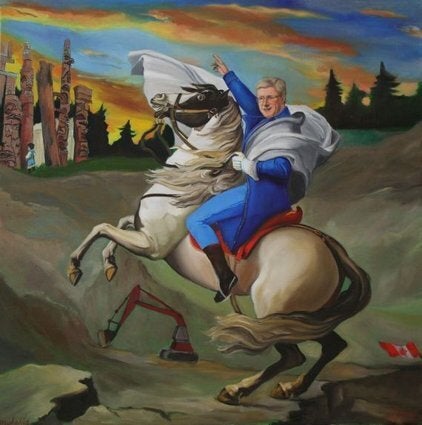 Not-So-Flattering Portraits Of Harper