AIRDRIE, Alta. - Police say they are searching a property northeast of Calgary in relation to the disappearance of a five-year-old boy and his grandparents, but they say they don't have any new clues about where they are.
Alvin and Kathy Liknes, along with their grandson Nathan O'Brien, haven't been seen since the end of June 2014.
Douglas Garland is charged with two counts of first-degree murder and one count of second-degree murder in their presumed deaths.
Investigators searched several properties last year near the acreage in Airdrie, north of Calgary, where Garland lived.
On Sunday, Calgary police issued a news release saying investigators are conducting a search east of Airdrie in order to collect additional evidence for the case.
The release says police do not have any new information about the location of the missing couple and their grandson.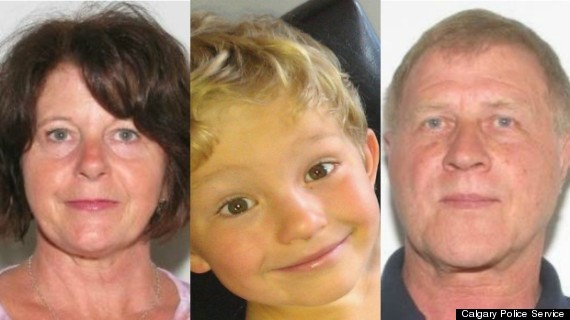 Kathy Liknes, left, Nathan O'Brien, centre, and Alvin Liknes, right, disappeared last summer and are presumed dead.
Nathan had been at his grandparents' on a sleepover the night of June 29 after the couple held a sale at their Calgary home. They were selling their things as they prepared for a move to Edmonton and then on to Mexico.
When his mother went to pick Nathan up the next morning, no one was home. Police have said there was evidence of a violent incident in the house.
They have not disclosed a motive.
Police said in the news release that they wouldn't provide any further information about the new search since the case is before the courts.
A preliminary hearing for Garland to decide whether there is enough evidence for a trial has been set for May.
RELATED ON HUFFPOST: