Hydration and moisturizing are integral parts of a good skincare routine at any time of year. That being said, Canadian winters — especially with the biting winds and harsh temperatures we've faced of late — can really do a number on the skin, leaving it tight, dry, and seriously thirsty.
We're all completely unique and individual, and the same goes for skin types! When looking for the perfect moisturizer there are any number of skin concerns to consider; from battling blemishes to dealing with dryness, from oily t-zones to preventing the signs of aging or struggling to find gentle products for sensitive skin. One size definitely does not fit all!
We've curated a list of some of our very favourite products and tools that address moisture and hydration needs, yet are tailored to a variety of skin concerns. No matter your complexion, we're pretty sure we've found the perfect fit.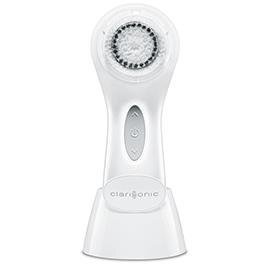 Finding The Right Hydrating Products For Your Skin Type
Click through the above gallery to check out our product picks and to find out more about why we love them.
1. Clarisonic Aria Sonic Skin Cleansing System, $230
The first step to any hydrating skin care routine is to thoroughly cleanse and prepare the skin to soak up as much moisture as possible. Our top pick to take care of this integral step is a session with Clarisonic's Aria Cleansing system. With impurities removed, all the moisture-rich goodness will thoroughly saturate the skin.
We're big fans of Boscia, and this light yet hydrating moisturizer is infused with bamboo extract and willow bark to control oil and refine pores.
Kate Somerville's Hydrating Acne gel-cream formula hydrates and soothes with algae while fighting blemishes with the power of salicylic acid. Anything that hydrates, soothes, and clears up skin is a winner in our books.
We've tried and tested this budget-friendly pick, and can sincerely attest to its richly hydrating feel, and the fact that it definitely contributes to smoother, more radiant-looking skin.
Fresh's Lotus Youth Preserve Cream is a true multi-tasker, providing intense moisture while simultaneously preventing and addressing fine lines and other signs of aging.
Skin around the eyes is both difficult to moisturize effectively and also one of the first to show sins of aging. Enter Clarisonic's Opal Skin Infusion system, which uses micro-massage movements to better infuse critical moisture into this sensitive skin.
This drugstore pick is so economical, yet still packs a hydrating punch with soothing vitamin E and fruit-based antioxidants.
It's not just the cold that can irritate already dry skin; it can also be stress! That's why we are loving the idea of an anti-stress, fully hydrating moisturizer, that just happens to be perfectly formulated for dry skin = win.
We're big fans of Korres' commitment to natural ingredients, so it's obvious we're going to choose their pomegranate-infused creamy gel moisturizer that mattifies while it hydrates. For those of us with oily skin? This is crucial.
Hydrate, refresh, reinvigorate; that's what this oil-free gel-cream moisturizer from Philosophy is all about. Infused with oxygen and stress-fighting antioxidants, this is a perfect skin-quenching pick-me-up for wintry days.
Is there anything more soothing than aloe? This day cream from The Body Shop is a wonder for sensitive skin – calming, gentle, and richly conditioning.
We love a budget-friendly-meets-top-quality beauty buy, and L'oréal's Vitamin E-infused Ideal Moisture Day Cream for Dry and Sensitive Skin (bonus: also available for normal/combo) is one of our absolute favourites.