Never let it be said that Thomas Mulcair and the NDP don't have a sense of humour.
The party absolutely nailed April Fool's Day with an email that was sent to supporters Wednesday morning.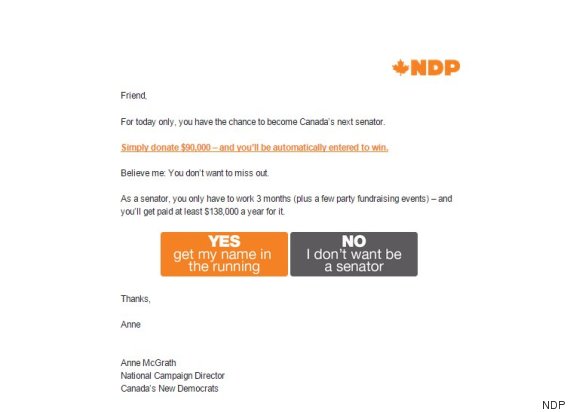 In case you have trouble reading the text, here it is:
Friend,


For today only, you have the chance to become Canada's next senator.

Simply donate $90,000 — and you'll be automatically entered to win.


Believe me: You don't want to miss out.


As a senator, you only have to work 3 months (plus a few fundraising events) — and you'll get paid at least $138,000 a year for it.


YES — get my name in the running.


NO — I don't want to be a senator.


Thanks,


Anne

The $90,000 figure is, of course, a reference to former PMO staffer Nigel Wright's decision to cut a cheque for just over that amount to repay Sen. Mike Duffy's inappropriate housing expenses.
Regardless of whether recipients clicked "yes" or "no," they were taken to an NDP site soliciting donations. New Democrats have vowed to abolish the Senate if they win the next federal election, scheduled for October.
But that wasn't the only dig that NDP members took at the Senate on Wednesday.
Halifax MP Megan Leslie also tweeted the following:
Found! #Canada's #environmental plan w #ClimateChange targets, in Pamela Wallin's expenses. #AprilFool#cdnpoli#ndp

— Megan Leslie, MP (@MeganLeslieMP) April 1, 2015
Tories, Liberals — you're up!
Like Us On Facebook

Follow Us On Twitter

ALSO ON HUFFPOST: