Yikes.
Cosmopolitan is under fire for publishing an article that uses white models for "gorgeous" trends and women of colour in the "trends that need to die."
In the post entitled "21 Beauty Trends That Need To Die," almost every single photo used in a "gorgeous" trend was of a white woman (aside from Nicole Richie, who is of mixed race), while almost a fifth of the trends that "needed to die" were illustrated with women of colour.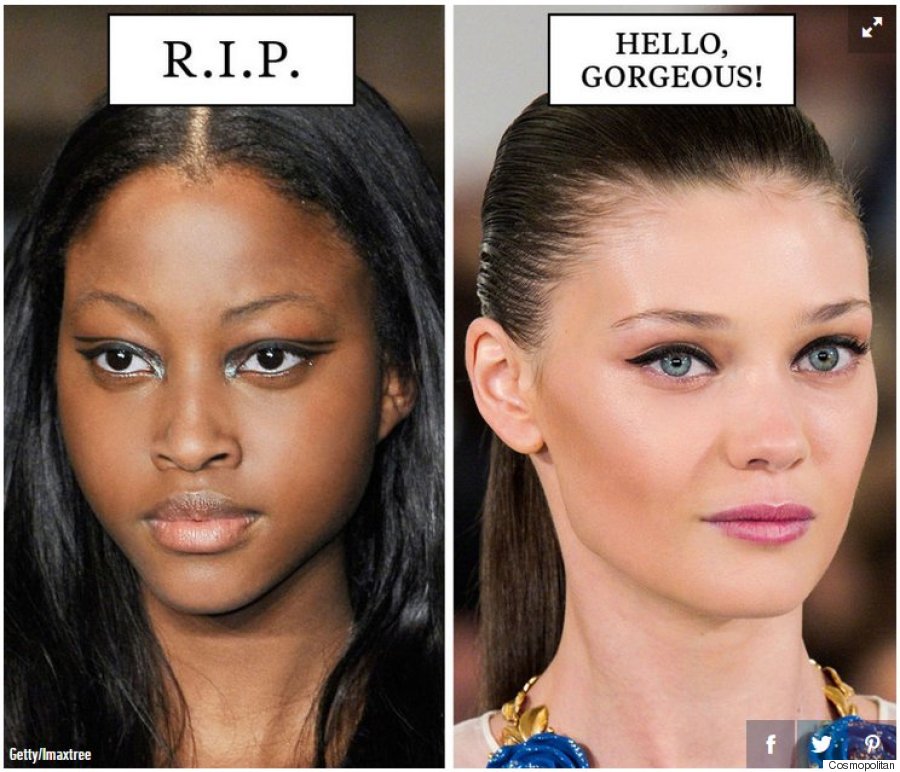 The article was originally published back in January but resurfaced over social media recently. That's when people began angrily tweeting about the magazine's choice of models -- some even encouraging users to boycott the magazine altogether.
Boycott @Cosmopolitan this is downright disgusting. pic.twitter.com/WJme0LbnLK

— spencer hastings (@KillioussBey) April 1, 2015
!! RT @MaS1banda In dishing out advice, Cosmo not-so-subtly tells readers "paler is better" http://t.co/RGz7nXJuuO 😕 pic.twitter.com/8va1Pqse3K

— Mikki Kendall (@Karnythia) April 1, 2015
Coincidence that all the "wrong" looks are on black woman/WOC? @Cosmopolitan

#HowItFeelsToBeABlackGirl pic.twitter.com/0DUEG5tch7

— Mother Afro (@HIFTBABG) April 1, 2015

And while we do see why this post has received such backlash, we have a feeling this wasn't the writer's intention. However, The Gloss said it best: "As a writer, it is important to select photos that accurately showcase a trend but it is just as important to have the images reflect your readers and society. The lack of diversity and choosing women of color for the fads section may have been an oversight, but it is something that happens a bit too frequently."
We couldn't agree more.
UPDATE: Cosmo has issued an apology, after Joan Smalls (who was one of the models featured in the trends that need to "die" section) tweeted out her anger.
@joansmalls Empowering and supporting all women is our mission, and here, we fell short. We apologize and will do better in the future.

— Cosmopolitan (@Cosmopolitan) April 3, 2015
Follow Huffington Post Canada Style on Pinterest, Facebook and Twitter!
Also on HuffPost