OTTAWA — One of Liberal Leader Justin Trudeau's closest friends is denying allegations levied by the NDP that he inappropriately used his public office to help the Liberal party of New Brunswick.
"It's fabricated stuff," New Brunswick MP Dominic LeBlanc told The Huffington Post Canada on Thursday. "They are throwing mud at others in error to cover up their own shoddy record."
Earlier in the day, Quebec NDP MP Alexandre Boulerice wrote a letter to the Board of Internal Economy, a secretive committee that administers the House of Commons, and which recently ruled that 68 current and former NDP MPs – including him – have to pay back more than $2.7 million to taxpayers after the party attempted to set up offices outside of Ottawa using public funds.
In his letter, Boulerice accuses LeBlanc, the son of former governor general Roméo LeBlanc, of working full-time as co-president of the Liberal party's successful campaign in New Brunswick's provincial election last summer and of neglecting his duties to his constituents.
"[W]e suspect that Mr. Dominic LeBlanc used House of Commons resources for partisan purposes, specifically for the benefit of the Liberal Party of New Brunswick," Boulerice wrote.
He asked the board to investigate LeBlanc's activities and probe his expenses, per diem claims and cellphone use during both the New Brunswick election, which began Aug. 21 and ended Sept. 22, and the pre-election period. LeBlanc was appointed co-president of the New Brunswick Liberal campaign in April 2014.
LeBlanc told HuffPost that he volunteered on the provincial campaign and that the New Brunswick Liberals provided him with a cellphone and email, and covered all his hotel costs, per diems and travel expenses.
"All of those expenses were paid directly by the provincial party," he said. "I did not use the House of Commons resources at all to support anything I did on the provincial campaign."
LeBlanc said that he had copies of all bills and receipts and that they would show that no use of parliamentary resources. The Liberal MP said the NDP was making up allegations that he had misused parliamentary resources to deflect attention from their own recent record.
During the past year, the NDP was found by the board both to have abused its mailing privileges by sending partisan mail to voters and to have broken House of Commons rules by employing staff paid by taxpayers to work in NDP party offices outside of Ottawa.
The NDP says the board's rulings are unjust and that the party is the victim of a witch hunt by its political opponents. It is appealing the ruling in federal court.
The Board of Internal Economy is made up of four Conservative MPs (including the Speaker), two NDP MPs and one Liberal, who happens to be LeBlanc.
"At the Board of Internal Economy, I have been working hard to ensure that House of Commons resources are used appropriately, and, as we know, the NDP has had considerable trouble explaining rather dramatic abuses of House of Commons resources," he told HuffPost. "It's probably not a coincidence that they decided to fabricate something about me."
In his letter to the board, Boulerice points to several newspaper articles referring to LeBlanc's activity in the campaign that he says justify opening an investigation into the New Brunswick MP's actions and spending record.
Boulerice notes that LeBlanc acknowledged working on the provincial party's platform, that he attended a party barbecue in August, that he was there to welcome Trudeau at the airport later in August when the federal leader arrived to lend his support, that he was on the provincial leader's bus on Sept. 8 as well as Sept. 11, and that he offered a quote to a local newspaper defending himself and the provincial leader, Brian Gallant, against a caricature by an NDP candidate that made them out to look like Nazis and Adolf Hitler.
Boulerice also accuses LeBlanc of missing five days of votes in the Commons, in June and September, alleging that he was either preparing for the campaign or working on it.
"Parliamentarians are partisan by nature, we understand that, and it's fine for MPs to be involved in partisan activities. But this is about an MP spending over a month on a provincial campaign," Boulerice wrote.
LeBlanc said he missed votes one day because he was visiting the Atlantic Cancer Research Institute with Trudeau and Gallant. The centre is run by one of his constituents, he said. LeBlanc defended his other absences saying it is normal for MPs to miss some votes because they are busy meeting with constituents in ridings or are in other meetings outside Ottawa.
Boulerice was unavailable for an interview and did not return calls for comment.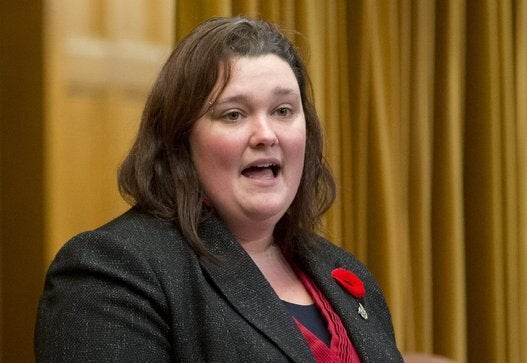 New Democrats Who Owe Most For Satellite Office Costs