There is a lot of jewellery out there, and it can be overwhelming. When is the best time to incorporate jewellery into an outfit? How about chunky acces sories? What type of outfit needs a sparkly accent? We've all had these burning questions at one time or another, and we've compiled all of your answers here in one handy location. Look no further for all of your spring jewellery trends.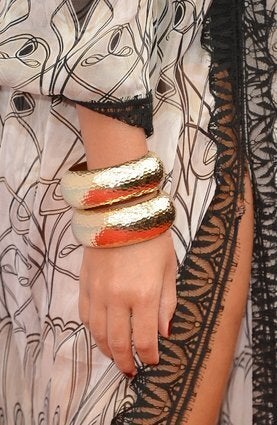 The Fashionista's Guide To Jewellery
Forget silver; think brass instead, specifically for earrings, bangles, or necklaces. This material showed up in multiple shows bent into fantastical designs and as the base for giant chest plates, as seen with Lanvin at this year's fashion shows.
A necklace is a quick way to add punch to a simple outfit. It works with most necklines and it's a cheerful way to change the look of an outfit. While a single thin chain works with almost every outfit, you can amp up the look by multiplying the chains. And different colours and materials of thin necklaces can be layered together to create a truly unique and subtle accent piece for your outfit. Necklaces are no longer a one-or-none situation!
This season, chokers are going to be huge but we're not talking about the velvet chokers from the nineties. Instead, these chokers make a statement. There are two ways to wear them: go very minimal with simple strips of metal, or go maximal with lots of gems, like Ralph Lauren who sent chokers in multicoloured gemstones down the runway.
If you don't want to wear a choker, you can try a statement pendant that drapes down your torso. Think big, bold, and eye-catching and mix it up with the materials.
If you really want to make a statement, wear both at the same time, as seen with the Versace collection.
When it comes to stacking rings, think variety; the goal here is to showcase different colours and materials, side by side. These rings make a statement, so wear one and wear it large. And much like layering necklaces, you can make quite an impression by wearing multiple complimentary rings on each hand — or even on each finger! Just make sure to keep a complimentary theme between them all and you'll be ready to rock an amazing statement piece.
Spring 2015 sees the '70s trend show up in bangles. This means earthy, chunky pieces that work with the boho '70s trend. Don't be afraid to try materials like wood, lacquer, or feathers.
Irregular pairing earrings
Think of earrings as the frame for your face so think about what frame you want. Last season saw the return of the one-earring look. This season, two earrings return, but they're not a matching set. Instead, go deliberately off-balance by paring earrings that are different colours or different shapes.