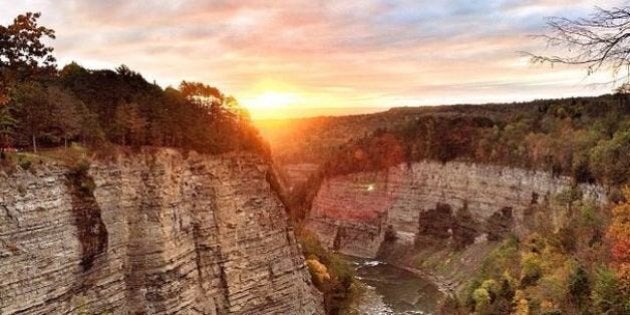 Canada's Instagrammers do a great job capturing this country's natural beauty and diversity. Each week we feature one of the country's best Instagrammers.
This week, we're featuring Toronto designer and photographer @Smaku. Here he is in his own words:
My name is Taku Kumabe, and I am a freelance photographer, and print designer. During the day I design magazines for an independent publisher. As a photographer, I take pictures for local festivals and special events under the moniker, The Festographer. During my off times, however, I love taking landscape photographs as that's what really puts me at ease. There's really nothing like soaking in that morning sunrise or evening sunset, even during the cold winter months.
My primary instagram account is @smaku, where all of my iPhoneography resides. My secondary account @theSmaku is where I recently started posting my Nikon travel photography.
A: The beauty that surrounds us everywhere is what inspires me to go out and take photos. If you don't make the effort to find it, you'll be caught sitting at home looking at all the beautiful photos that everyone else has been taking.
I love a good landscape shot and it's often quite difficult to take one when you live in the city. So on my days off, I make an effort to go outside the city to explore and see the places around me. You start to realize there's so many amazing photo opportunities out there that it makes you want to just keep exploring day after day.
In this day and age with so many photography sharing sites, you'll be able to find lots of shooting location ideas, whether you love landscapes, urban, or even fine art. In fact, joining many of these sites myself, I've been inspired to shoot many different styles that I normally wouldn't have otherwise. Isn't the Internet great? ;)
A: Lately I've been into taking long exposure photos, both with my Nikon and my iPhone. Long exposures can produce different emotions from the resulting photos. To do these though, you'll need a tripod. I have a mini tripod and Joby Griptight XL that I carry along with me wherever I go just in case I want to make a long exposure shot. This combo is lightweight, fits in your pocket and does an excellent job stabilizing your camera wherever you need it.
Ok, so that's not a tip for everybody, so here's another one. Apps. The best thing about your iPhone as a camera is that there are many apps to augment your photo-taking process. There's apps for long exposures, slow motion video, time-lapse and more. All this is within your fingertips so my tip is to use this to your advantage to find different ways of shooting and explore the possibilities. For example, my #VisibleMotion series that I do came about accidentally when I was experimenting with a long exposure app. Try doing that with your dSLR — it will take you hours just to make one shot, whereas I can do these in minutes on an iPhone.
A: Oh, I have many! I talked about long exposure photography yesterday, so I'll include one from a time where my phone tipped over from the wind as I was taking the picture. It was about an eight second exposure with around six of those seconds focused on the snow and ice, and the last two seconds on tree branches. Since it was snowing and there was very little colour all around, the two exposures kind of blended in nicely. In hindsight, with a little editing, this could have turned out to be something interesting.
A: Sunrise at Letchworth State Park, 2013. Did I mention I love taking sunrise and sunset shots? Whenever I go somewhere new, I make an attempt to take one or more of these shots. When I went to Letchworth State Park in NY State some two years ago, I did just that. I woke up at 6am and tried feverishly to find a decent spot in the park for a sunrise. I came to this point where I took this shot as the sun peaked over the gorge. It was an amazing sight to see, and I thought the picture turned out nicely too. It's always tough waking up so early, but you are thankful that you did, when you see Mother Nature at her best with spectacular views like this.
A: There are a lot of people who inspire me to not only keep shooting what I like to shoot, but inspire me to see things differently, whether it be in black and white, through different perspectives, or just through different editing styles.