When he shuffled his federal cabinet in July 2013, Prime Minister Stephen Harper made it clear that the team he was assembling was the one he believed could help him win the next election.
With eyes to 2015, Harper reportedly asked ministers in advance of the shuffle if they planned to run again. As a result, some ministers felt pressured that summer to reveal their retirement plans — essentially clearing the way for the eight new faces that would eventually land in cabinet.
Harper said at the time that his revamped cabinet boasted a good mix of young talent and experienced hands.
"The prime minister is setting his lineup for the upcoming battle," Jason Lietaer, a former Conservative insider, told The Canadian Press at the time.
However, less than two years later, some key members of that line-up won't be joining him in a battle that is now just months away.
Here is a look at how things have changed since that pre-election cabinet shuffle.
Jim Flaherty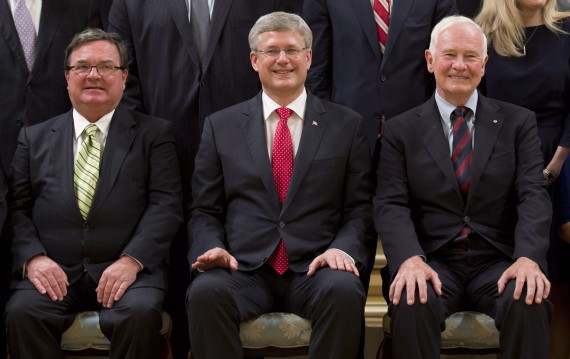 Photo credit: The Canadian Press
In July 2013, Flaherty was one of those "experienced hands" who was kept on as finance minister.
By March 2014, Flaherty resigned the post and was replaced by Joe Oliver.
Though his struggles with a rare skin condition were well-known, Flaherty said the choice to return to the private sector was unrelated to his health and was simply "the right decision for me and my family at this time."
He passed away on April 10, 2014 after suffering a heart attack.
Though Flaherty's heath challenges had already spurred speculation he could exit politics early, much was also made of his public remarks a month before his resignation in which he expressed reservations about his party's income-splitting plan.
"It benefits some parts of the Canadian population a lot and other parts of the Canadian population virtually not at all," he told reporters of the key Tory campaign pledge.
Both Liberals and New Democrats have taken to quoting Flaherty when expressing their lack of support for the Tory Family Tax Cut —and may continue doing so during the election.
John Baird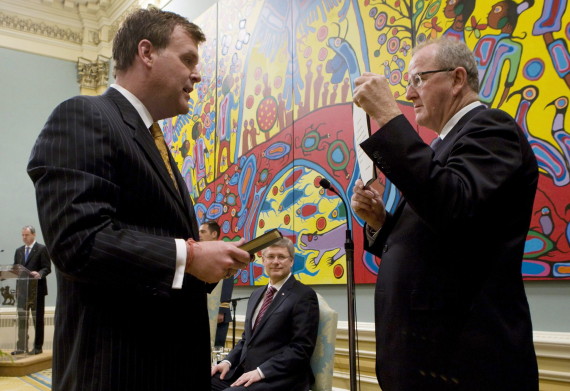 Photo credit: The Canadian Press
Harper also kept Baird on as foreign affairs minister in that summer shuffle. However, Baird surprised many when he resigned from cabinet in February 2015 and gave up his Commons seat the next month.
Ontario MP Rob Nicholson was named as Baird's replacement, a choice that drew some criticism since Nicholson doesn't speak French.
While Baird's exit was considered a big blow to Harper's front bench, a friend of the former minister told The Globe and Mail that Flaherty's death forced Baird to think "about his future and life in general."
In a statement to the media, Baird said he was "excited for the next chapter of my life." He has since landed several high-profile private sector gigs.
Though many Tories said there was little controversial about Baird moving to private life after a 20-year career in politics, Green party leader Elizabeth May suggested something else was happening.
"When a minister of the Crown feels his advice is not welcomed by a prime minister, when everything is run out of the Prime Minister's Office, I think it is hard for anyone to play the role of loyal soldier," she told reporters at the time.
And with Canada expanding its mission against the Islamic State of Iraq and the Levant into Syria, one imagines there could be days ahead where Baird's communication skills will be missed.
Christian Paradis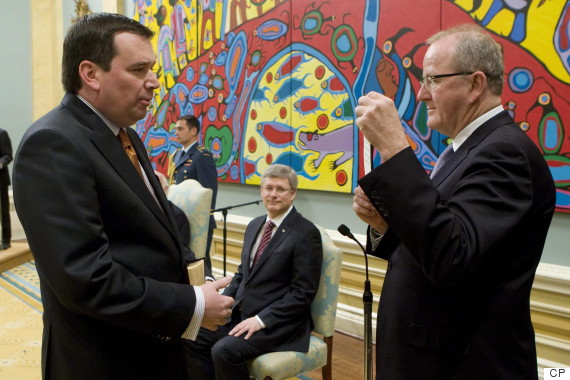 Photo credit: The Canadian Press
In the 2013 shuffle, Paradis was demoted to international development minister. James Moore, considered something of a rising Tory star, took over as minister of industry.
This past Easter weekend, Paradis announced he would not run again in the next federal election but would serve out the remainder of his term as MP and, if Harper allows, minister.
In a statement, Paradis said he came to the decision with his family.
"We have come to the conclusion that after almost a decade of my being on the public stage, it's time for me to pass on the torch and move on serenely to write a new chapter in our lives," he said.
"In politics, people who accomplish nothing are never criticized. I look back with pride and without regrets. In private, in public, in my constituency or in Ottawa, I have always defended what I considered to be right, regardless of rhetoric or ease."
Paradis is one of just five Conservative MPs in Quebec — a key battleground province. While polls have long suggested the race in Quebec is between the NDP and Liberals, numbers in recent months show Tories have been making real strides in the province.
Adding to the mystery behind the departure, Paradis had already been nominated to run for the Tories in the next federal election.
Yet, the longtime MP is no stranger to controversy. In 2012, the conflict of interest and ethics commissioner ruled Paradis broke the rules in 2009 when he gave former Tory MP Rahim Jaffer preferential treatment to pitch for a government contract.
But the watchdog cleared him in 2013 for spending two nights at a hunting lodge with a Quebec businessman pushing for a new hockey arena in the province.
Shelly Glover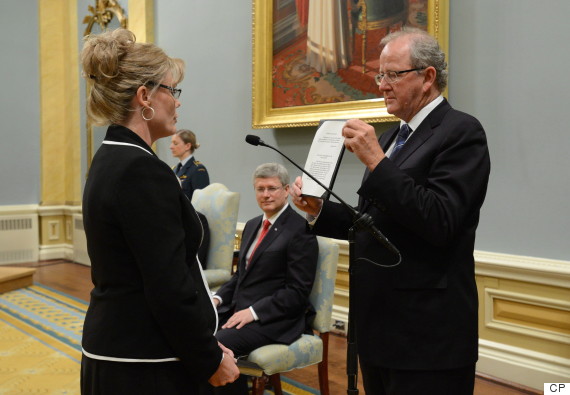 Photo credit: The Canadian Press
Glover was arguably one of the biggest winners of Harper's 2013 shuffle, jumping from the role of parliamentary secretary to minister of Canadian heritage.
But, like Paradis, she announced in April 2015, that she won't be re-offering. She, too, had been nominated to carry her party's banner this fall.
In a statement, Glover said family reasons were behind the decision and that she wants to return to her career as a police officer.
"I took a break from policing to become a legislator and am proud to have been part of a government that passed over 30 crime and justice bills," she said in a statement.
In a video recorded shortly after she was sworn into cabinet, Glover, first elected in 2008, reflected on her "humble beginnings as Metis girl" in Winnipeg.
In her statement last week, Glover also referenced her unique path to politics.
"We live in the greatest country in the world, where a young pregnant teenager from a broken home can strive to help others and become a woman sitting at the Cabinet table making decisions that impact all of our lives," she said.
Before joining cabinet, Glover had a spat with Elections Canada over her campaign overspending in the 2011 election. According to CBC News, the agency said the Tory MP undervalued her election signs so that she could spend more money on other things.
Her campaign eventually acknowledged, in a compliance agreement, that it overspent due to "inadvertence and honest misunderstanding of what constitutes an election expense."
If she was to run in the next campaign, Glover would have needed to underspend to balance out the overrun in 2011.
The federal ethics watchdog cleared Glover last year of breaching conflict rules in connection with a fundraiser attended by Heritage Department stakeholders.
Other changes since Harper's last cabinet shakeup
Julian Fantino, named veterans affairs minister in 2013, was demoted to the role of associate defence minister in January 2015, after a number of controversies. Erin O'Toole, a veteran himself, has stepped up to the role.
Pierre Poilievre, originally given the more junior role of minister of state for democratic reform, was also promoted to employment minister in January, replacing Jason Kenney who moved to defence.
According to political website Pundits Guide, 27 Tory MPs are retiring in time for the next election, followed by 11 NDP MPs and five Liberals.
With files from The Canadian Press
ALSO ON HUFFPOST:
How Much Harper & Top Tories Have Aged