Most of us start our day with a cup of coffee, and if you're at this Tim Hortons location at McMaster University in Hamilton, Ont., this also means your coffee may come with a dance.
We were first introduced to Terri Marshall's skills back in 2013, when a video of her dancing during the company's Roll Up The Rim contest went viral. Known to students at the school for her killer dance moves, singing and positive attitude, the campus employee also leaves messages for customers on coffee lids.
But last week, students at the university decided to give back to their favourite employee. Starting off with a mini dance routine to Pharrell's single, "Happy," some students joined in on the fun as others presented her with a cheque for $1455.26. It turned out, students had created a GoFundMe.com fundraising account (which raised $1,655) to chip in and send Marshall on a much-deserved vacation.
"Terry [sic] is someone who has always been there for Mac students! As students, we have a lot of uphill battles daily be it a bad mark or just the day not going well for us in general. Regardless, Terry will always put a smile on your face if you are buying a coffee or even if you're just walking by," one student writes on the fundraising page.
So where does she plan to go for her vacation? Watch the video above to find out.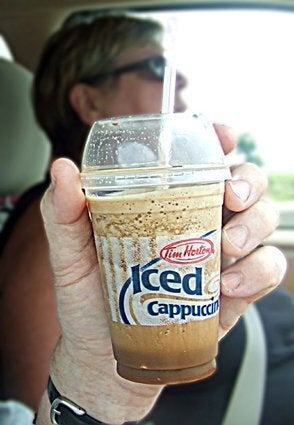 20 Secret Tim Hortons Menu Items