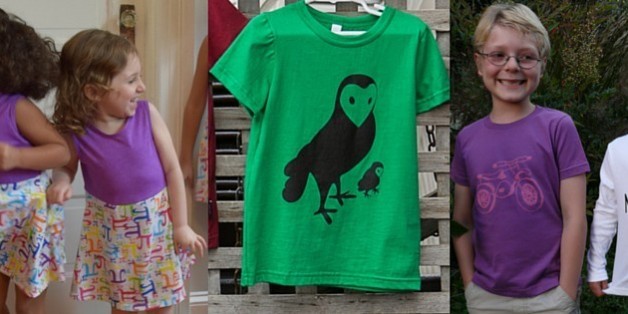 Princess Awesome, Jill and Jack Kids, HiP
In October 2013, Jennifer Muhm's 4-year-old daughter declared she wanted to be an astronaut for Halloween. But when the mom and daughter flipped through costume catalogs and saw only boys dressed as astronauts, the little girl changed her mind.
Muhm's friend Malorie Catchpole had a similar experience. She was unable to find train underpants for girls, which her toddler daughter had requested for Christmas -- they were only available for little boys.
Muhm and Catchpole took matters into their own hands and launched buddingSTEM, their own line of science-themed clothes for girls. Their hugely successful Kickstarter campaign has raised over $60,000 since its creation in March 2015.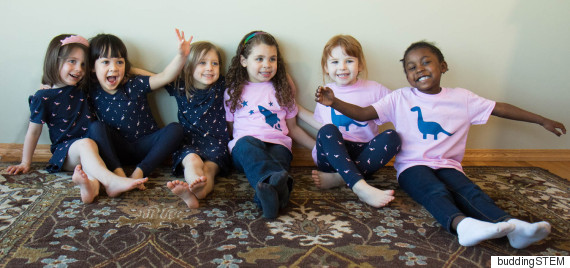 BuddingSTEM is part of a growing trend of crowdfunded clothing brands with a gender stereotype-bashing mission. Frustrated by the lack of variety in boys' and girls' clothing -- particularly when it comes to science-themed shirts for girls -- at least a dozen different parents have launched their own small lines of inclusive, empowering kids' clothes. Often, parents turn to sites like Kickstarter to fund their businesses.
These clothing lines work to combat the gender norms that seem so pervasive in kids' wardrobe options by offering pinks and purples for both boys and girls, as well as designs with trucks, dinosaurs, planets and other traditionally "boy-ish" images for girls.
Though these small clothing lines produce similar products, Handsome in Pink founder Jo Hadley told The Huffington Post, "We do not see each other as competition but rather as inspiration to keep moving the gender empowerment movement forward for boys and girls."
And small as the brands may be, the movement they support is slowly reaching more mainstream companies. J. Crew is currently selling a series of science-themed graphic tees for both boys and girls, as part of a partnership with the American Museum of Natural History. Lands' End responded to a mom's viral complaint about its gender stereotyping shirts with a line of STEM-related options for girls.
Without further ado, here are 12 parent-founded kids' clothing lines that challenge gender stereotypes one shirt at a time.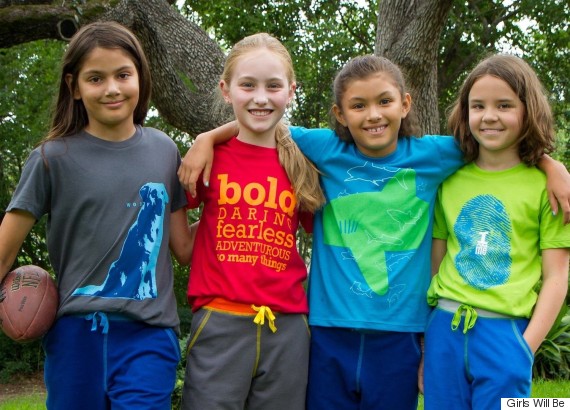 Texas mom Sharon Choksi launched Girls Will Be with her siblings David and Laura Burns in 2013 after her daughter Maya lamented the lack of clothing options fitting her adventurous personality. In March 2014, she successfully raised over $30,000 in Kickstarter donations to fund production. From shirts with robots, sharks, and other fun designs to non-"shorty" shorts that leave room for running around, Girls Will Be offers clothes that show "there is more than one way to be a girl."
As Choksi told The Huffington Post, "Girls Will Be designs clothes with colors beyond pink, no sparkles or frills, stereotype-busting graphics, and a fit that lets girls be kids."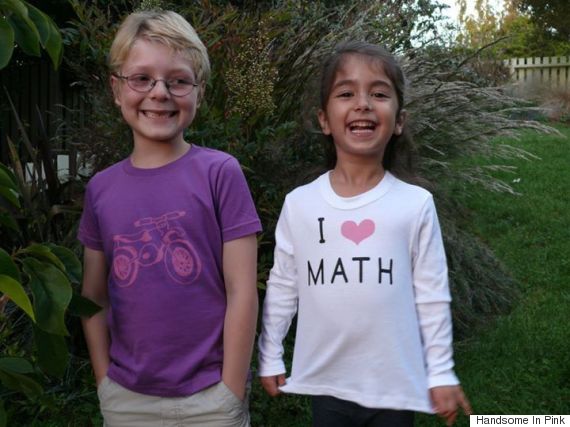 Handsome in Pink is the brainchild of mom Jo Hadley, who launched the Oakland-based clothing line in 2007 when her toddler son was going through a big "pink and purple phase." As the brand's website states, "We believe that colors (such as pink and purple) and active imagery (such as firetrucks, tool belts, and electric guitars) belong to everyone and should be mingling, not dividing up along gender lines."
With a constantly growing line of empowering clothes -- like a "Forget Princess, Call Me President" shirt for girls -- Handsome in Pink is still thriving today, the mom told The Huffington Post. And as for Hadley's son, the now-10 year old still counts purple as his favorite color.
3. Svaha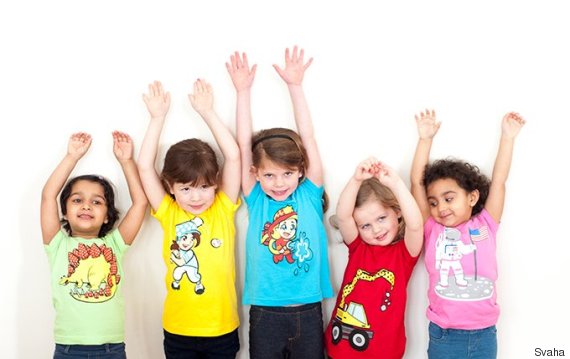 Jaya Halepete Iyer of Oakton, Virginia created a clothing line called Svaha in honor of her 3-year-old daughter, who wants to be an astronaut when she grows up. Dismayed at the lack of space-themed shirts for girls, the mom decided to address what she sees as "a significant gender bias that exists in the kids' apparel industry,"she wrote on Kickstarter. Svaha's shirt design motifs include sports, firefighters, dinosaurs, astronauts, and construction equipment.
Though she was unable to meet her Kickstarter funding goal last month, Halepete Iyer wrote on the Svaha Facebook page, "I hope to be able to get these t-shirts to all of you in some way hopefully sometime real soon."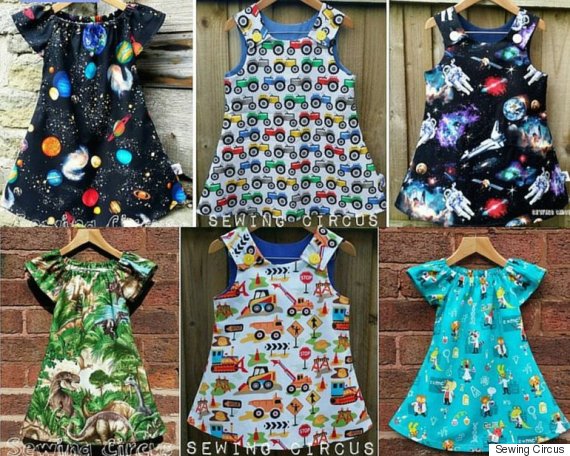 U.K. brand Sewing Circus began at mom Francesca Aiken's kitchen table, where she created science-related dresses and skirts for her daughter Scarlett by hand. "All the themes that interested her were sold to boys only on the U.K. high street," she writes on the company's website. "I urgently wanted to tell girls like Scarlett -- Space, Dinosaurs, Bugs and Trains -- are for you as much as boys." Today, Sewing Circus is a fully fledge business that sells handmade clothes to customers across Europe, the U.S., Canada, Australia, and New Zealand.
5. Jessy & Jack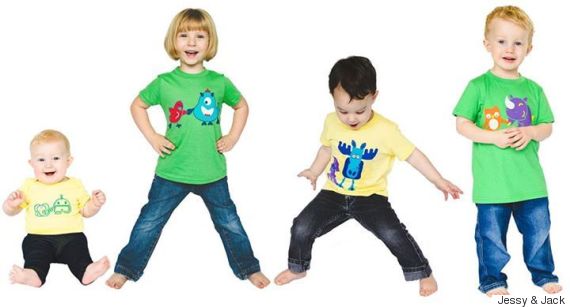 Vibrant colors and fun images abound in the designs by Jessy & Jack. Seattle mom Courtney Hartman launched the brand through a Kickstarter campaign last summer, and now she sells gender-neutral shirts, onesies, and bibs on the Jessy & Jack online store.
As the website states, "We think that dividing animals, objects and hobbies into 'girl stuff' and 'boy stuff' is silly, so we design things that both girls and boys can love." And for every t-shirt Jessy & Jack sells, the brand donates a shirt to kids in need.
6. Quirkie Kids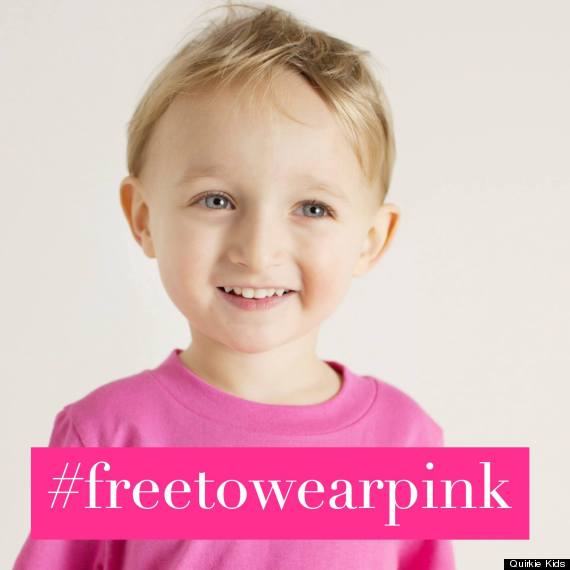 Quirkie Kids started in March 2014 as a Kickstarter-funded line of pink shirts for both girls and boys. "Some boys like pink and why not?" founder Martine Zoer writes on the brand's website. "Pink is just a color and so is green, and blue, and yellow." Today, Quirkie Kids sells a variety of gender-neutral shirts in many colors and patterns.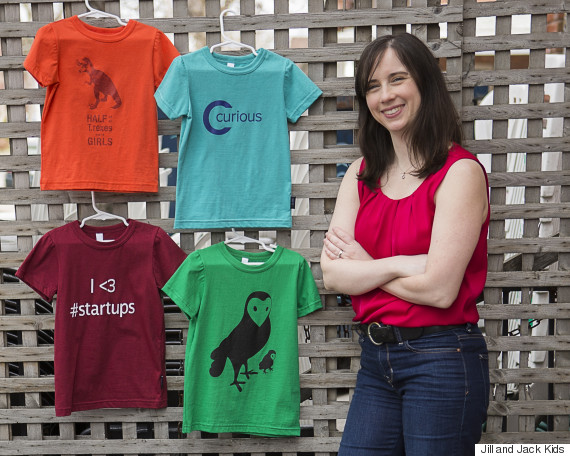 When Jenn Neilson went shopping for her daughter for the first time, she was disappointed to find that the girls' departments were full of "pink and and frills" while the boys' departments were all about "trucks and sports," the Canadian mom writes on the Kickstarter page for her children's clothing brand Jill and Jack Kids.
"Even though I know lots of kids who love these things, most boys are into more than just sports, and we need to tell girls that even if they like princesses, it's cool to like other stuff -- like dinosaurs -- too!"
After raising over $20,000 to turn her brand vision into reality last June, Neilson sells colorful clothes for adventurous children on the Jill and Jack Kids website.

With a line of empowering t-shirts and books for girls, Princess Free Zone offers "an alternative to princess and pink." Founder and president Michele Yulo says her "feisty" daughter Gabriela was the inspiration for the brand, as she refused to wear dresses, lace, puffy sleeves, and other stereotypically "girly" clothes. As Yulo states on the Princess Free Zone website, "Girls need to know that they can do anything they want -- that might include hammering a nail into a wall or fixing a broken faucet."
9. BuddingSTEM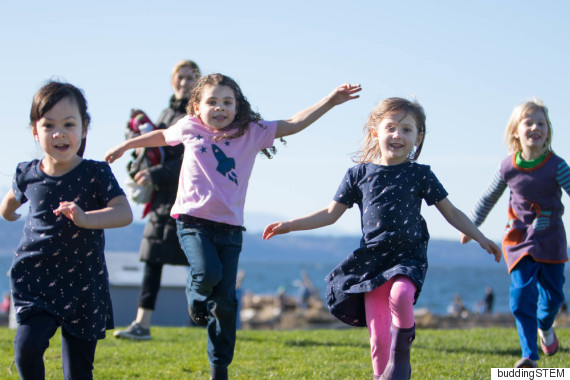 Seattle moms Jennifer Muhm and Malorie Catchpole created BuddingSTEM after bonding over their shared frustration at the lack of clothing options for their space and train-loving daughters. Their hugely successful Kickstarter campaign has raised over $60,000 and counting to date. Offering science-themed shirts, pants, dresses, and even underpants, BuddingSTEM lets girls "wear clothes that speak to their interests," the founders told The Huffington Post.
"Girls shouldn't have to make a choice between being feminine and expressing their love of science, or sports, or anything really!"
10. Princess Awesome
After raising an astounding $215,691 on Kickstarter, D.C.-area moms Rebecca Melsky and Eva St. Clair are hard at work bringing their "Princess Awesome" clothing designs to life. "We believe that if a girl likes purple and also likes trucks, she should be able to wear a purple truck dress. And if a girl likes princesses and also aliens, then an alien princess skirt is for her,"the Kickstarter page reads.
11. Climbing Trees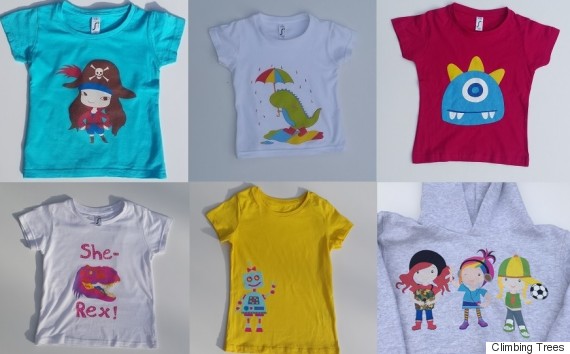 Climbing Trees is an upcoming t-shirt brand set to launch this summer. Mom Cheryl Rickman and her 6-year-old "dinosaur-loving, football-crazy daughter" conceived of the brand as a solution to the lack of clothes for girls with such interests.
"Girls like dinosaurs, robots and monsters too and should be able to find clothes featuring those motifs in the girls aisle," Rickman writes on the company's Facebook page. And, the mom told The Huffington Post, a percentage of profit from each t-shirt sold will go to The Woodland Trust to plant more trees, "because the Climbing Trees team loves trees (and climbing them)."
12. Pigtail Pals & Ballcap Buddies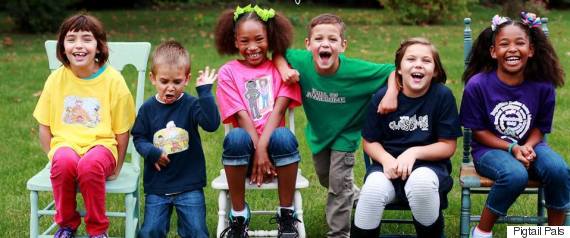 From its positive body image shirts to its "Redefine Girly" designs, Pigtail Pals & Ballcap Buddies provides a great selection of empowering clothes for boys and girls. Mom Melissa Atkins Wardy created the brand to combat the frustrating limitations and stereotypes she noticed in children's clothing.
As the Pigtail Pals & Ballcap Buddies website states, "Melissa wanted apparel that reflected an imaginative and diverse childhood for her daughter and son. PPBB is all about supporting the idea there are many ways to be a kid and that every kid is Full of Awesome."
Like Us On Facebook |

Follow Us On Twitter |

Contact HuffPost Parents